I have been extremely busy the past week or so, it seems like what I have been doing is never ending! I had thought my dad was coming to see me this weekend, but there was a change in plans, so I was cleaning out my daughters room, and trashing a bunch of stuff, you can say I was doing my spring cleaning before spring, haha.
I got my laundry room cleaned, my kitchen almost cleaned, I have been going through cabinets, threw out most my old dishes, they was older then dirt, I had one pot, and a bunch of junk, so I was in need of new pots and pans, I purchased the Better Homes and Garden Set, so far so good, I can now cook a full meal at the same time, instead of waiting for something to finish to start the next part. Making spaghetti is going to be easy now. :) We also got a wok, and a pizza tray, time to learn how to make some Chinese food now, I guess.
Got a new kitchen table! This one is a lot nicer then the old one, took me about 2 hours to put it all together, I suck I know hah.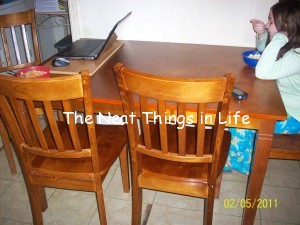 Went and stocked up on some meat… this should cut the cost of our grocery bill down some. We got a grill, yay hubby can cook this summer.
I have not been working out :( BUT I have been doing more around the house then I normally do, so I am guessing I am burning more calories cleaning, then when I was doing the elliptical. Soon as I get everything caught back up, I am getting back on the elliptical, my knees will thank me. My legs have been killing me so bad, I can not handle the elliptical machine for long.
I hope everyone is doing great, and sticking to their weight loss goals.