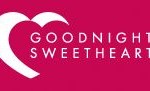 About GoodNight Sweetheart:
Goodnight Sweetheart LLC provides do-able, easy, and FUN ways for you to better connect with the people who matter most – your "family".  As Goodnight Sweetheart founder, Evon Creger, explains, "Having those wonderful moments – heartfelt connections – with your significant other and your kids – THAT'S what makes for a satisfying life.  At the end of the day, when you feel CONNECTED to those who matter most to you, you… feel… happy."
Sometimes, we get way too busy and we forget to connect with our loved one. I know with my husband and I, it is not that we forget, it is that we are on two different schedules, he is going to bed as I am waking up, and as he is waking up I am going to bed.
Goodnight Sweetheart Couples Edition, lets us reconnect with each other whether it is, when I am waking up, when my husband is waking up, or just in the middle of the day. This game is perfect for all couples!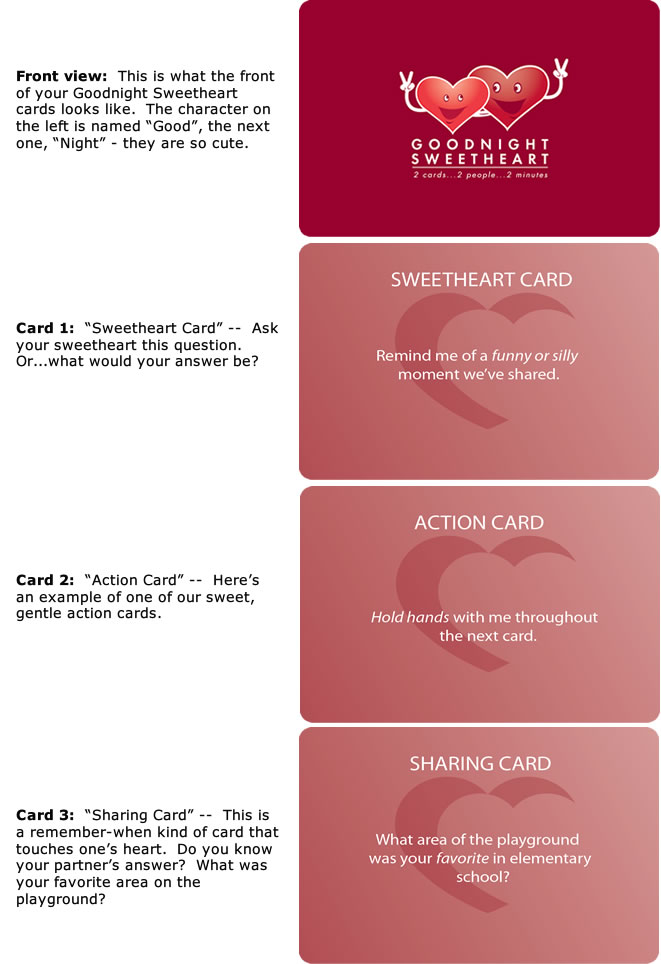 Instead of getting your sweetheart flowers, or chocolates this Valentine's Day get them Goodnight Sweetheart, this will help the both of you stay connected night after night, and day after day!
I love these cards, it lets my husband and I have a few minutes just to reconnect with each other. Goodnight Sweetheart is currently only available, for Couples, soon they will come in My Child, My Tween, My Teen, as well as Cool Stuff. Not only is there cards to help you reconnect you can also purchase Night Cap Notes.
Purchase:
You can purchase GoodNight Sweetheart Couples Edition on the Goodnight Sweetheart website for $17.95!
Connect With Goodnight Sweetheart:
Website: http://gnsweetheart.com/
Twitter: http://twitter.com/#!/GNsweetheart
Facebook: http://www.facebook.com/pages/Goodnight-Sweetheart-LLC-GNsweetheartcom/107668902594128
Youtube: http://www.youtube.com/user/GNsweetheartcom
Discount Code: Today February 8th and the 9th you will get free shipping if you use the coupon code FRIEND
Wanna win a set of the Goodnight Sweetheart Couples Edition? Well, guess what I got a set to giveaway to one lucky winner!
Mandatory: Head on over to the Goodnight Sweetheart website, and tell me something you learned, this must be different from the comment from the person above you!
Want Extras?
Become a Google Follower. (2 extra)
Follow Goodnight Sweetheart on twitter. (2 extra)
Become a Subscriber. (2 extra)
Like Goodnight Sweetheart on Facebook. (2 extra)
Like The Neat Things in Life on Facebook, right hand side. (2 extra)
Become a network blog follower. (2 extra)
Follow me on Twitter. Right hand side. (2 extra)
Tweet the giveaway. This can be done daily. (1 extra daily)
RT @Jammie79 Enter to win a set of @GNsweetheart Couple Edition Cards! http://www.theneatthingsinlife.com/?p=4236
Giveaway will end February 22nd, @ 11:59pm CST. Giveaway is open to US residents 18 an older. Once winner is drawn I will contact them via email and they  will have 48hrs, to contact me back with the proper information. If a winner fails to respond a new winner will be drawn. All my winners are drawn with… And the winner is… Plugin for wordpress.
Disclosure: I received the Goodnight Sweetheart Couples Edition for review purposes only, no other form of payment was received, this is only my opinion and others may vary, I would recommend these to family and friends!