We are always seeing good reviews about companies, never the behind the scenes when a company decides they are going to screw a blogger, what makes it even worse, is when they screw a customer. Way long ago, back in November, I had won some Head Chefs products from a blog giveaway Fun Saving Money was hosting.
You may remember my big rant on this topic, about companies not following through. When a company doesn't follow through it makes the blogger look bad, a lot of bloggers will not blog about the bad or the way the company did them crappy, because if you really think about it, not only is the company screwing over the winner, they are also screwing over the blogger, because of all the promoting they do during the giveaway periods.
A company loses nothing when they do a review/giveaway of their products, it is rather cheap promoting for them, not only do they gain a lot of exposure this way, but when they do follow through they also receive a lot of word of mouth advertising. I know when I purchase a product, and I love it I brag it up to everyone, I have purchased items that others have bragged up. It is all the circle of promoting.
Anyway, when I contacted Head Chefs about not receiving product I had won they pushed all the blame to the blogger, they made it look like she was sent the product and it was her job to make sure the product got sent to me, I was believing them to a point, then they lied to me several times… I guess they do not realize, I could be a potential customer, and I could have sent them some business. I guess they will never know now, and I sure the hell am not sending them anyone. When asked where to purchase cooking products for children their name will be the last on my list…
This is taken directly from Head Chefs Facebook wall…

I have noticed the comments are removed, not sure if this is facebook doing or if they removed it, but it is okay I have it saved… The top is just to show the date of when this was posted on their wall…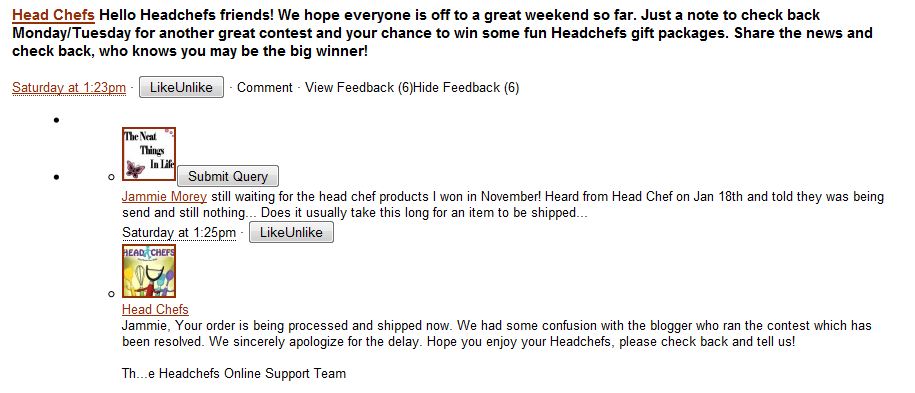 So this was almost 3 weeks ago, so anyone considering purchasing products from Head Chefs, be prepared for a long wait to get your items since they have a huge delay in the processing and shipping area.
I no longer expect these products to show up at my door, this is a fine example of how crappy Head Chefs customer service, as well as their business ethics are, if you are wanting to get neat children kitchen products, I really recommend steering clear from this company.