About BrightBin, LLC

BrightBin, the manufacturer of The New Generation Lunch Box™, launched in 2010 as the premier waste-free, eco-friendly, non-toxic lunch box that has redefined the lunch box category.  Founded by Stephanie Stiller, a mother of three and former teacher, BrightBin is a money- and time-saving solution to packing a traditional lunch without the use of plastic bags, which are known to negatively impact the environment.  BrightBin's products include The New Generation Lunch Box and the L'Artiste:  The New Generation Lunch Bag, as well as a variety of other insulated themed lunch carriers.   BrightBin is a privately held company based in Chicago.  For more information, visit www.BrightBin.com, follow BrightBin's Twitter stream or their Facebook page.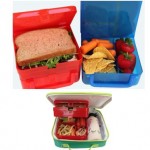 It's no secret that we're a home schooling family, however, when Gillian went to public schools, I would have LOVED to own The New Generation Lunch Box, this would have made packing those lunches so much easier. I wouldn't have had to waste money on baggies!
Recently, we got a chance to check out the new generation lunch box. One thing I love about this lunch box, is all the room, and sandwiches will no longer get squashed! This lunch box will come in handy this summer, when we go camping, Gillian, always seems to get hungry when we go hiking. Pack a small lunch for her with some healthy treats, and then we can stop and have a small picnic while continuing on our hike.
The Next Generation Lunch Box, is not just for packing those lunches for the kids, this also would make a great tool for the working family that is so busy for lunch, or for the one who travels a lot, with several different compartments, in the lunch box, you can carry a variety of snacks.
Features:
100% waste-free.
No plastic bags and no lids or small storage containers to get lost.
Can be used on its own as a lunch box or can be inserted inside any insulated lunch bag to replace plastic bags, reusable bags, and small food storage containers.
Non-toxic: made of food safe polypropylene free of BPA, phthalates, lead, and PVC.
Save time! Making lunch has never been easier or faster since food goes directly into the built-in food compartments.
Save money! Save over $60 each year by not buying plastic bags, disposable pre-packaged snack bags, or food storage containers.
Dishwasher and microwave oven safe.
Option to come with a VELCRO® brand Fastener to fasten the lunch box into the lunch bag.
Conforms to or exceeds U.S. and European safety standards
5.6" X 5.6" X 4"
Shipping weight: 0.60 pounds
colors: translucent cherry red or translucent blueberry blue
Price: $16.95
Just knowing that your wallet will have some relief is a huge plus!If you would like to save some money, then I highly recommend the New Generation Lunch Box. This is also great for the one trying to watch the waistline, use the compartments with your favorite snack, and take to work with you, no more going hours without eating only to over eat later.
Purchase:
You can purchase The New Generation Lunch Box from their website, for $16.95
Connect With BrightBin:
Website: http://brightbin.com/
Twitter: http://twitter.com/#!/BrightBin
Facebook: http://www.facebook.com/pages/BrightBin-The-New-Generation-Lunchbox/141756405848878?ref=sgm
Disclosure: We received product for review purposes only, no other form of payment was received. This is my honest opinion and others may vary.