You may be thinking great another diet book. What happened to you not believing in diets Jammie? Well, I still do not believe in diets, but each diet book out there has a wealth of information that will help in your journey to becoming healthier.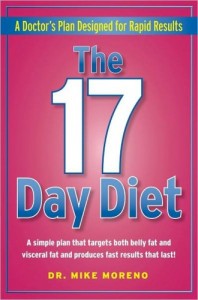 The 17-Day Diet by Dr. Mike Moreno is loaded with information, as well as a 4-cycle plan to get you on the right track. The first three cycles, are 17-days, while the fourth cycle is keeping you on track.
Cycle 1 Accelerate- this cycle will help you flush all those sugars and fats out of your system.
Cycle 2 Activate- during this cycle you will be alternating low and high calorie days, this help shed body fat.
Cycle 3 Achieve- here you will learn how to control portions and learning new fitness routines.
Cycle 4 Arrive- this cycle is putting a bit of the past 3 cycles together to keep the good habits up for good. Then on the weekends you can enjoy your favorite foods.
Again, this book may have the word diet in the title, but I personally would not call it a diet book. Dr. Mike Moreno, shows you all the steps needed to losing the pounds. He includes a "diet" plan, which again I am not a fan of; however, this plan is not crazy foods, the foods in these meal plans, are items you should already have in your home.
One thing I found to be the most helpful, was the eating out section. Dr. Monero, shows you how to eat out smartly. No more going out to eat with the family, and having to stare at the menu forever trying to find something you can eat and not gain 10 pounds.
I found this book to be more of a guide, a very good guide to becoming not only healthier, but also smaller in the process. Did you know that in the mornings to get your digestive track stimulated, you should drink 8 ounces of hot water with half a lemon squeezed into it?
The 17-Day Diet is a must read for those struggling with their weight. Even if you do not plan on doing the "diet" you will gain a lot of knowledge to help you in the ways you need helped to drop the pounds. Not only does this book have a wealth of knowledge it also has several recipes, and a question and answer section.
Plus, it is written by a Doctor, not someone out there that is clueless and trying to gain wealth from those struggling to lose weight.
You can get healthy recipes on The 17 Day Diet website, as well as figure out how many calories you should be eating to lose weight or to maintain your current weight.
You can purchase The 17 Day Diet: A Doctor's Plan Designed for Rapid Results
on Amazon for $13.41
I received a copy of this book for review purposes only no other form of payment was received. I personally have not done this diet, but I am using the information in this book to help guide me in losing weight.