Are you a mom that is tired of traveling, and having to leave behind your perfume? I personally have never been in a plane, but with airport security being up, I know some items are not allowed on the plane. So, what better way to carry your favorite scents with you in a stick form!
A little about Baroque Bath & Body:
Sarah Johnson created Baroque Bath & Body because of her frustrations traveling with liquid perfume.

She knew two things. 1) She hated to smell plain and boring while traveling. 2) It wasn't practical to include an entire bottle of perfume in her quart-sized bag for liquid carry-ons.

She decided to get to work on a travel friendly solid perfume that would not only be efficient for the airport, but also to throw in a purse or gym bag for fragrant touch ups throughout the day. Baroque Bath & Body was born, a slender and elegant tube that makes it possible to dab deliciousness on your wrists, neck, or cleavage without sticky fingers or goo stuck under your nails. Read More…
These perfume sticks are about the size of Chap Stick and will fit nicely in your purse. They carry over 40 original and designer-inspired scents; they apply easily, and last a while. Recently, I was able to check out the Soapy Clean Collection. Let me first say when I got these in the mail and opened it up that's all I could smell! It smelt so fresh and clean.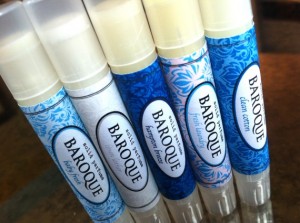 My first thought as I opened each one, was what a neat idea. Then my daughter and I started smelling them and was in awe. The smells stand out; I put a small amount on my wrists, and neck. I was sort of expecting a sticky like feeling, but I didn't!
I love how portable they are, and the fact I can literally carry one in my pocket if I needed to. My daughter has already claimed the baby fresh! My personal favorite out of this line of scents is Hampton breeze.
You can purchase Baroque products at Sarah's Etsy shop, prices, fragrances, and amounts vary.
Connect with Baroque Bath & Body:
Etsy Shop: http://www.etsy.com/shop/baroquebody?ref=pr_shop
Twitter:  http://twitter.com/baroquebathbody
Facebook: http://www.facebook.com/baroquebathbody
One lucky reader will win their choice of any 3 fragrances from the Baroque Bath & Body Shop, just in time for Mother's Day!
Mandatory: Head on over to the Baroque Bath & Body shop and let me know which 3 fragrances you would want if you was to win. Please make sure these are the ones you want, because they are the ones you will be getting if you win!
Want Extras?
Follow Baroque Bath & Body on twitter. (1 extra)
Like Baroque Bath & Body on facebook. (1 extra)
Become a Google Follower. (1 extra)
Become a Subscriber. (1 extra)
Like The Neat Things in Life on Facebook, right hand side. (1 extra)
Become a network blog follower. (1 extra)
Follow me on Twitter. Right hand side. (1 extra)
Enter any of CA Monkey Momma's Mother's Day giveaways. (1 extra for each you enter)
Tweet the giveaway. This can be done daily. (1 extra daily)
RT @Jammie79 Enter to win your pick of 3 Perfume Sticks from @baroquebathbody http://www.theneatthingsinlife.com/?p=5092
Giveaway will end April 20th, @ 11:59pm CST. Giveaway is open to US  residents 18 an older. Once winner is drawn I will contact them via email and they  will have 48hrs, to contact me back with the proper information. If a winner fails to respond a new winner will be drawn. All my winners are drawn with… And the winner is… Plugin for wordpress.
Disclosure: I received samples for review purposes only, no other form of payment was received.