When was the last time you went to the Salon and had a haircut? For me it has been almost a year, when I think of having to pay over 16 to get hair removed from my head, I cringe. I remember going to a new place to have my hair cut not knowing the price, going to pay and being told it was $22! The first thing out of my mouth was "Are you kidding me?"
My husband did my last haircut before getting the CreaClip, it didn't look to bad! At least he left it a little long so I could hide the mess-ups in a pony!
Recently, I have been googling ways to cut my hair. I wanted to be able to not only cut my daughters hair, but also my husband's hair and mine as well. Just think of all the time, and money a family can save by cutting their own hair!
I found a video on how to cut hair just plan straight. So I cut my daughters hair, nothing fancy just a simple straight cut it looked cute, but she wanted bangs. OMG there went the b word. The last time I attempted to do bangs on her, they were a mess.
Now I got my husband saying I need to learn to layer, he is wanting a cut, and he likes his with a little layer. So I start googling some more how to layer hair, and come across another video. This video was for a product called the CreaClip.
I watched the video and was extremely excited to try out this product!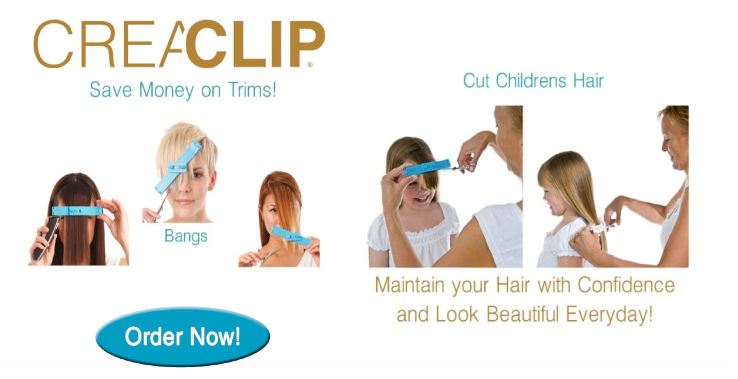 The CreaClip was invented by Mai Lieu and has over 15 years experience in the beauty industry!
About Mai:
Mai Lieu is President, CEO and founder of CreaProducts LLC, a product development and consulting firm that inspires and delivers innovative and creative products that enrich the consumer's quality of life. As an inventor and entrepreneur with 15 years experience in the beauty industry, she's won more than 7 first-place international hairdressing awards. She has worked and trained in the USA, Canada, China, and Europe. Mai has advanced training with top Academies under Vidal Sassoon, Toni & Guy, Sebastian and Wella. In 2008 she was recognized in Cambridge's Who's Who as one of the top 4 business women chosen out of 500,000 businesses. She was also nominated for Best New Product of the Year for 2008 & 2009 (by the Stevie Award for Women in business). She has presented and sold out on Home Shopping Network. Her success story has featured in the Best-Seller book Law of Business Attraction, the Star Bulletin, Hawaii's Business MidWeek, KITV, KHON, KHNL TV as well as over 10 radio stations! She is passionate about creating solutions and is dedicated to living a life filled with passion, inspiration, and creativity. This inspires a way of being that empowers others to have their dreams become reality.
When I received the CreaClip in the mail, I could not wait to try it out. Tipped my head forward and started cutting. Of course after I got the bubble lined up. I bent over the trashcan so the hair went in there instead of the floor. Went and looked in the mirror and the layers were coming out and I was loving it. However, it was still a bit too long, so again started cutting some more, I wasn't noticing any length coming off, only the layers getting shorter and shorter. OOPS LOL So I had my husband cut the length and my hair looks AWESOME. It looks a lot better than if I was to have gone to the Salon and wasted half my day!
When Gillian woke up she wanted bangs so I did her hair as well!
Before and After pictures of Gillian, she loves having bangs, I personally like it when the bangs are combed back, it gives it more of a feathered look. When I asked her why she wanted her hair like that, she said so she can look more like me! I do not have bangs but short layers.
I love how the CreaClip is your guide to cutting straight; I love how you can layer your hair and not have to mess with going to the salon. The CreaClip is well worth the $29.99! I can tell you right now I will be getting a lot of use out of the CreaClip, and I can have my husband cut my hair with ease now.
Since getting the Creaclip
, I have cut daughters hair, hubs hair, and my hair! This is definitely one of those as seen on TV products, worth investing in. Just think of all the money you can save your family, and believe it or not, I would now trust my 9 year old to cut my hair.
Purchase CreaClip:
You can purchase the CreaClip directly from the CreaClip website for $29.99 plus p/h, or Amazon
. You will receive one small CreaClip for bangs and one large one for long hair and layers!
Connect with CreaClip:
Website
I received the CreaClip for review purposes only, no other form of payment was received. This is my honest opinion, and I WOULD recommend this product to family and friends.