I love flowers, my favorite is Lilacs. I remember when I was a child my mom had several lilac bushes. Us girls would go outside, pick some, and put them on the kitchen table. All you could smell throughout the house was lilacs. For my anniversary, my husband bought me a rose bush; he did this because I fuss when he buys me flowers.
I know I should thank him for thinking about me, and being such a wonderful husband. However, I have bad anxiety issues, and when he spends money on flowers it freaks me out, because I know something is going to go wrong and we will need that money.
Therefore, when ProFlowers contacted me about doing a review and giveaway for Mother's Day Flowers I had to say yes. This was very hard picking which set I wanted, they have so many beautiful arrangements. I narrowed it down to a few different sets; I decided to go with the Happy-Go-Lucky set! The chose this set, because I love purple, pink, and yellow together.
However, some of the flowers in this bouquet did not meet their quality standards so a different set was sent to me in place of the set I ordered. ProFlowers replaced the bouquet so that I would receive the flowers on the chosen date. Proflowers has a 100% satisfaction guarantee, including a 7-day freshness guarantee. When ProFlowers has to change the bouquet they automatically refund the customer 50% of their order, if for any reason the customer is still not satisfied they will replace the bouquet free of charge, or give the customer a full refund. They stand behind not only their product, but also their service.
The replacement bouquet I received was the Deluxe All the Frills, these flowers are beautiful!
The following day I received the original flowers I had chosen in the first place, and I think I liked the Deluxe All the Frills bouquet better. I mean they were both beautiful and smelled so fresh.
I was very happy and pleased with the steps ProFlowers took to make sure I got not only a set on the day I was supposed to, but also the original set I had originally wanted. Companies that go above, and beyond in order to make sure their customers are happy at the end, are the companies I want to purchase from.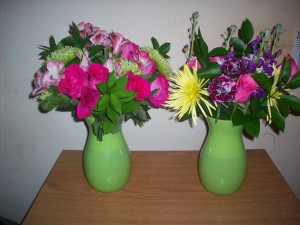 Purchase:
To purchase that perfect set of flowers for mom on her special day head on over to ProFlowers and have a look around prices vary on which arrangement you are wanting.
Connect with Proflowers:
Website: http://www.proflowers.com/
Twitter: http://www.twitter.com/ProFlowers
Facebook: http://www.facebook.com/ProFlowers
How would you like to win a $50 gift code to ProFlowers, to get you a nice set of flowers for Mother's Day? I have one code for one lucky reader, to help brighten their day, or their mom's day.
Mandatory: Head on over to Proflowers site, and have a look around come back here, and tell me which bouquet you would like to get.
Want Extras?
Follow ProFlowers on twitter. (1 extra)
Like ProFlowers on facebook. (1 extra)
Become a Google Follower. (1 extra)
Become a Subscriber. (1 extra)
Like The Neat Things in Life on Facebook, right hand side. (1 extra)
Become a network blog follower. (1 extra)
Follow me on Twitter. Right hand side. (1 extra)
Enter any of CA Monkey Momma's Mother's Day giveaways. (1 extra for each you enter)
Tweet the giveaway. This can be done daily. (1 extra daily)
RT @Jammie79 Enter to win a $50 gift code to @ProFlowers http://www.theneatthingsinlife.com/?p=4926
Giveaway will end April 18th, @ 11:59pm CST. Giveaway is open to US  residents 18 an older. Once winner is drawn I will contact them via email and they  will have 48hrs, to contact me back with the proper information. If a winner fails to respond a new winner will be drawn. All my winners are drawn with… And the winner is… Plugin for wordpress.
Disclosure: I received flowers for review purposes only, no other form of payment was received.