Did you know Mother's Day is less than two weeks away? I am very bad at sending cards to my family. I usually intend to do so, I purchase the cards, address the envelops, and then they sit there! Why, because I forget either to get stamps, or umm I do not have the money to get all the stamps to mail the cards out!
A few days ago, I was let in on a little secret. Okay so maybe it isn't a secret, but it was news to me! Hallmark has partnered with the U.S Postal Service. This is going to make getting those cards, and mailing them out so much easier. With this partnership brings a line of cards that will already include postage. Mmmhmm now you can buy your card, and postage is already included on the envelop, so no more excuses.
Hallmark currently has more than 90 Mother's Day Postage-Paid greeting cards to choose from. These cards include cards for mom, grandma, sisters, and for those other important women in your life, that you look up to.
Postage-Paid greeting cards can be purchased at stores such as Hallmark, Wal-Mart, Walgreens, CVS, and most other stores that sell Hallmark greeting cards. These cards range from $2.69 – $3.99 and did I mention they come with PAID postage… Want to stock up on cards with paid postage, but worried with the postage always changing. Don't worry the postage on these envelops, are treated like the forever stamp, so they will NOT expire on you.
Hallmark is not just doing the Postage paid on Mother's Day cards, they also have over 200 every day, and other seasonal cards with the postage paid as well. Now you really have no excuse.
I was sent a sample pack of these cards, and I have to say Hallmark has not disappointed me. I have always loved Hallmark greeting cards, and now thanks to them, I will be able to send my family cards and ON TIME! Yup, on time, and it is all included in the price I pay at the store. All I have to do is sign, seal, and place in the mailbox.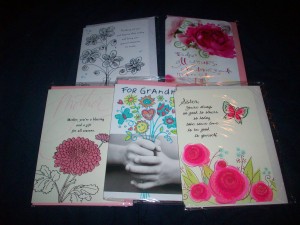 As you can see, the cards are individually sealed, this is a plus, because now it prevents those not so honest, people from taking the paid postage envelop. I use to be a merchandiser for Hallmark, and that always bugged me, when stocking the cards and you end up with some envelops short, because someone decided they didn't want the yellow envelop that came with the card they were getting. They wanted the pretty blue one instead!  I am also a fan to the fact they are reasonably priced.
Behind the Scene with Hallmark's card writer Molly Wigand Great Tips For Sending Cards:
Where Card Writers Get Inspiration for Writing Mother's Day Cards

What Message Have You Written in Your Own Mother's Day Cards?

Tips for Finding the Right Mother's Day Cards

Tips for What to Write in Your Mother's Day Card

Promotion:
If you do not see a card you like in the Postage Paid greetings, you can also get any other card Hallmark currently sells (excluding cards with sounds and business greeting cards.) and get free postage. The free postage promotion is valid on the Hallmark website, and ends 6/19/2011. Just use FREESTAMPS at checkout! Visit Hallmark site for full details on this promotion.
Purchase:
You can purchase Hallmark cards online, or at Hallmark retailers. Prices on the cards vary, depending on store, and card type.
Connect with Hallmark:
Website
Win It!
That is not all 2 lucky readers will get a sample pack as well! I am going to make this a fast giveaway in hopes you get the cards before Mother's Day, but I cannot make no promises.
Giveaway Rules:
Remember giveaways are ONE per household!
Mandatory: Head on over to Hallmark's website, and tell me what other cards you like.
Want Extras?
Like Hallmark on facebook. (2 extra)
Become a Google Follower. (2 extra)
Become a Subscriber. (2 extra)
Like The Neat Things in Life on Facebook, right hand side. (2 extra)
Become a network blog follower. (2 extra)
Follow me on Twitter. Right hand side. (2 extra)
Tweet the giveaway. This can be done daily. (1 extra daily)
RT @Jammie79 Enter to win a sample pack of Postage Paid Hallmark Greeting Cards http://www.theneatthingsinlife.com/?p=5336
Giveaway will end May 1st, @ 11:59pm CST. Giveaway is open to US  residents 18 an older. Once winner is drawn I will contact them via email and they  will have 48hrs, to contact me back with the proper information. If a winner fails to respond a new winner will be drawn. All my winners are drawn with… And the winner is… Plugin for wordpress.
Disclosure: I received a samples for review purposes only, no other form of payment was received. This is my honest opinion and others will vary.