Are you still having a hard time trying to figure out what to get mom? Make her some homemade bath salts!
Bath salts are very simple and inexpensive gift to make. Bath salts will help mom relax while leaving her skin feeling great.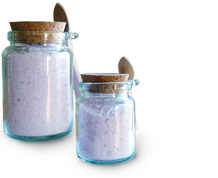 What you will need:
Essential oils (depending on which sent you would like to make mom)
Food coloring (optional)
Glycerin (optional)
Jar with a lid
Ribbon
This will make approximately two cups of bath salt.
In a large bowl, mix 2 cups of Epsom Salt with a few drops of your mom's favorite scent. If you would like to give it some color, add a few drops of food coloring and mix until it's all blended. You can also add ½ tsp of glycerin; however, this is optional. Once you have everything mixed you can place the bath salt in a jar, tie a pretty ribbon on the jar, and you have a nice relaxing Mother's Day gift for mom.
You can use Epsom salt to make other beauty products as well, to get more ideas, as well as learn how Epsom salt works check out their site!
You can purchase Epsom Salt at stores such as Walgreen for a few dollars.