One thing that bugs me about my cell phone is the fact it doesn't hold a charge,  and the only way I can charge it is via the laptop, since I lost the plug in part to my charger, oops. One gift that would make a moms life easier, is a product that will help keep the cell phone charged, as well as all the electronics the kids have.
The Powermat 3x is the perfect solution to a dead cell phone. This device knows when to stop charging; this helps you save some on your electric bill, as well as preventing your battery from overcharging. We all know what happens when you have an over charged battery, you have to go purchase a new one, and those things are not cheap.
We had the opportunity to test out the Powermat 3x, receivers, as well as the dual back up battery.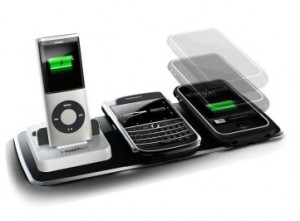 A little about the Powermat 3x:
The perfect solution for wirelessly charging all your gadgets in one place. Keep up to three devices fully charged at all times with the convenience of this three position charging station. Read More…
Some of the benefits from this device include, no more tangled cords, your devices can be charged easily, and it is completely safe. Now us moms, never have to worry about the kids getting shocked trying to plug in their chargers.
One thing I loved the most about this is the dual battery pack. The dual battery pack can be charged either on the powermat, or via the usb on your computer. This is a must have for moms, and it fits perfectly in the purse for easy mobility. The dual battery pack is great to take with you when you are going on long trips so the kids can keep those mp3 players, or handhelds charged.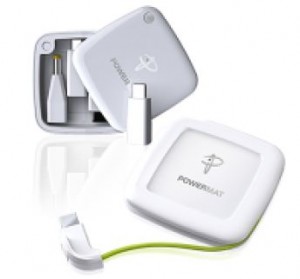 Although the powermat charges 100's of devices, some devices do not work with the mat. My husband has an older model palm and it would not work. I would love to see powermat come out with more tips.
Powermat 3x, would make a great Mother's Day gift for any busy mom. This device has been a true blessing for this mom, no more dead DS, cell phone, or ipod!
Purchase:
You can purchase the powermat 3x at powermat.com, as well as extra receivers, dual battery pack, and tips. The powermat 3x starts at $69.99.
Connect with Powermat:
Website: http://www.powermat.com
Twitter: http://twitter.com/powermat
Facebook: http://www.facebook.com/Powermat
Youtube: http://www.youtube.com/powermatTV
Disclaimer: I received a powermat, receiver, and dual back-up battery for review purposes only. No other form of payment was received, this is my honest opinion others may vary.