One thing I noticed while shopping at local stores, is they're all starting to get those As Seen on TV products. I think actually seeing these products in the store, and getting to feel them or see how they actually work has a big impact on whether I want to spend the money on them. Plus, purchasing from the local stores cut out the shipping and handling fees.
Recently I was able to check out the Purse Brite! I have several purses, ranging from small to large. I usually just grab my wallet though, and carry that. The reason being, you can't find anything in my purse! So, when I got the purse brite in the mail I was excited to check it all out.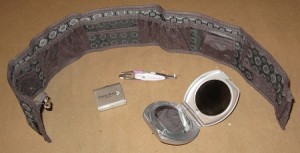 About the Purse Brite:
With the Purse Brite you will finally keep everything with you organized and findable. The Purse Brite is a lighted purse organizer that has 10 expandable pockets that you can use for your keys, glasses, checkbook, makeup, cell phone and much more. Plus, there is a hidden pocket that you can use for more important things such as credit cards, pills or other personal items.

Keep everything in your sight and at your fingertips with the Purse Brite. Best of all the Purse Brite will fit inside any handbag leaving room in the center for larger items, such as your wallet. Purse Brite also features an ultra-bright light built in so that you can find things quickly  in the dark!

Since everything will be organized nicely, with Purse Brite you will be able to change purses in minutes without having to dump your things out.

The Purse Brite is also great for gym bags, diaper bags, tote bags and beach bags. It is so light, portable and space conserving that you can use it anywhere and everywhere.

The Purse Brite comes in three different colors, pink, coal (light black), or beige.

The Purse Bright Includes:

1 Purse Brite
1 Purse Brite Light
FREE 5x Magnification Lighted Mirror!
Free Luma Tweeze!
My Opinion:
With all the pockets the Purse Brite has, everything in my purse now has a place. If I decide I want to use one of my other purses, I can simply remove the Purse Brite from one purse to the next. I love the fact it comes with a light! No more fumbling for anything in the dark, all I have to do is push the button and I am set. I am also a fan of the little accessories that come with the Purse Brite, I have an issue with these 2 small hairs that like to grow on my chin. It is a pain pulling them out, especially when we are on the go. Now I can pull out my lighted mirror and the luma tweezers and get it before I become to annoyed. I love these tweezers, they have a small magnify glass on it to make it a lot easier to use.
I also love the fact the Purse Brite can be used in different ways. Love products that have multiple uses. Did I also mention this would make an AWESOME gift for mom for Mother's Day!
Purchase:
You can purchase the Purse Brite on the, As Seen on TV website for $12.95 plus shipping and handling.
Connect With As Seen on TV:
Win It:
One lucky reader will win their very own Purse Brite! In order to win all you have to do is follow the mandatory entry.
Giveaway Rules:
Giveaway is open per household. If I see people entering on the same IP, but with different names their comments will be VOIDED. Play fair and good luck!
Mandatory:  Head on over to As Seen on TV, and tell me something else you would like to check out.
Want Extras?
Follow TVTopTen on twitter. (2 extra)
Like TVTopTen on facebook. (2 extra)
Become a Google Follower. (2 extra)
Become a Subscriber. (2 extra)
Like The Neat Things in Life on Facebook, right hand side. (1 extra)
Become a network blog follower. (1 extra)
Blog the giveaway linking back to this post. (5 extra)
Follow me on Twitter. Right hand side. (1 extra)
Bookmark TVTopTen on Delicious
Tweet the giveaway. This can be done daily. (1 extra daily)
RT @Jammie79 Enter to win a Purse Brite thanks to @TVTopTen #tvtopten http://www.theneatthingsinlife.com/?p=5305
Giveaway will end May 7th, @ 11:59pm CST. Giveaway is open to US  residents 18 an older. Once winner is drawn I will contact them via email and they  will have 48hrs, to contact me back with the proper information. If a winner fails to respond a new winner will be drawn. All my winners are drawn with… And the winner is… Plugin for wordpress.
Disclosure: I received the Purse Brite for review purposes only, no other form of payment was received. This is my honest opinion others will vary.