Are you a mom trying to get your weight under control, but having a hard time with those calories? I am, I have been trying for a while now, and trying to figure out my intake and outtake when it comes to calories. Once I get that down, I think I will start losing weight a bit faster. I have been stuck on the scale for a while now, so I somewhat gave up.
Yea I know, if I give up, I will for sure not see result. I have recently started to get back in the GRUVE of things! I have been using the Gruve now for about 2 weeks. The first 8 days, I was being evaluated. This process was to set the system properly. During the evaluation period, I only did normal activity. The reasoning being, I did not want the Gruve to set my goals extremely high.
What is the Gruve:
The Gruve Solution™ is a new, completely revolutionary approach to weight management.

It isn't a magic pill, miracle powder or meal replacement plan. It's not about counting points, cutting carbs, or purchasing body-bending contraptions. And it doesn't require 60 minutes at the gym 3 times a week or a $100-per-month membership. Instead, the Gruve Solution is an unprecedented, personalized, scientifically proven solution that enables healthy, sustainable weight loss.
Introduction to Gruve-Living an Active Lifestyle from The Gruve Solution on Vimeo.
The Gruve, is worn on your hip and tracks your daily activity. To check your progress throughout the day you press the halo button on the Gruve device, and you will see a color based on your progress.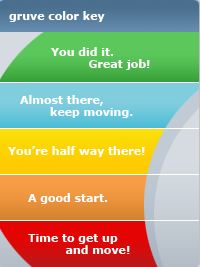 At the end of the night, you hook the Gruve up to the computer, your data then will transfer onto the Gruve site, and your device will charge. According to the documents, you will need to charge the device every 2 to 3 days, I personally like hooking it up before bed, seeing my results, and then letting my Gruve charge. This will assure me, all of my data is saved, and my Gruve doesn't run dead.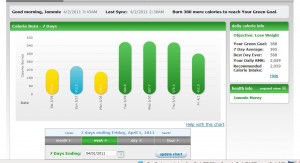 One thing I like about the Gruve is the color codes, I like seeing when I get closer to the goal that was set for me, and I also like how the device will vibrate when I have been sitting for too long. This feature is called the ECP or Energy Conservation Point. The ECP is when your body's metabolism slows down because of inactivity. You want to avoid hitting the ECP, with doing so you will burn more calories. If you ignore the first warning, the Gruve will vibrate once again letting you know you have reached your body's ECP.
I personally love the Gruve, I love the charts online, and how I can see my progress, by either hour, day, week, or month.
However, I do have a few blahs about the product. I would love to see a program I could install on my computer that tracked everything instead of having to go online. In this program, I would also love to see a way to track your calorie intake. This would be a huge plus for the Gruve device! I also think the calorie burn is not 100% accurate, I think it under estimates. This isn't a huge issue to me though, I would rather it under calculate then over calculate!
You can purchase the Gruve with a year subscription for $199.95 here.
UPDATE: The Gruve's main function is to track movement not exercise, I like a lot of others confuse it to track all of our exercising. I love the fact that is it designed to track more movement over exercise, because when I work out 30 minutes a day it is not good enough if I sit for the rest of the day, the Gruve reminds you to get up and move, and when you move enough it turns green, and I like green. I have doubled the amount I move since receiving the Gruve. I am excited to see the progress I can make with this device!
Connect With The Gruve:
Website: http://gruve.com/
Twitter: http://twitter.com/gruvesolution
Facebook: http://www.facebook.com/pages/The-Gruve-Solution/36136768494?sk=wall
I received the Gruve, as well as access to the site for review purposes only. No other form of payment was received, this is my honest opinion and others may vary.