A few days ago, I noticed the orchard here was posting on their facebook about the strawberries being ready for picking. I asked hubby if he wanted to take the kiddo up to pick some strawberries. We figured we would pick about 10 pounds, and I would process and freeze them.
When I noticed they was 1.99 a pound I got to thinking, why go and pick your own, when I could go up to Kroger and pay 2.00 a pound and it would be A LOT less gas, Kroger is 4 miles from my home, orchard is about 20 miles from my home.
I let Gillian know we were going to pass, she got sad so I gave in.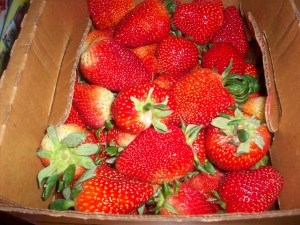 When we got up to pay the total was $39.00 FOR STRAWBERRIES. We ended up getting like 20 pounds without even realizing it. The next time we go do this, I am taking a scale to weight them in the field LOL.
Thank goodness, I had the extra money, and this did not hurt us, or I would be super depressed right now. However, I did realize something, store bought strawberries taste nowhere near fresh as the ones straight from the garden. The taste is two different tastes that's for sure. I am kind of glad we got 20 pounds. Now I get to make some jam, puree some, and just freeze some whole. We all LOVE Strawberries in my home.
If you have a chance to pick some fresh strawberries I highly recommend!