Some people just don't know when to stop do they… Well you know the whole post "Who Needs Friends" it was triggered by some stupid shit that happened yesterday. Shit that should be dead and gone, I tried to drop it by going away from everyone; however, that didn't work I started being accused of not giving a shit about friendships, and yada yada yada…
I forgot Jammie isn't allowed a cool down time… Anyways, I tried to cool down, I went and started entering giveaways, minding my own business, a few hours had passed, then the shit gets brought up again… Not by me… but whatever people want to bring it back up I will defend myself, my actions, my reasoning's. Then it falls back on the "Jammie isn't allowed" to bullshit. Everyone else can, but no not Jammie….
So I defend myself explain shit, does no good… I emailed this person after I was cooled down some… that only leads to a tweet about me being her stalker…(ummm this person emailed me at all my emails, as well as yahoo…I did go to her blog ONCE, but I wouldn't call that stalk-able) I ignore it let her think what she wants… I am to the I don't give a damn part. I better watch my wording here, it will get made into something that it's not.
I go into my stats and find this….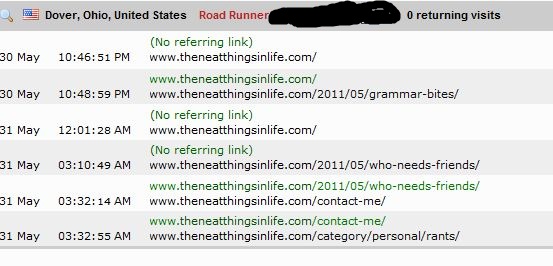 BUT… I am the stalker? I decided it was best to ban this person from my site, I woke up with yet another attempt of her trying to view it… Again I am the stalker. This person has tweeted me, emailed me, been to my site 7 times since all this happened, talked her shit about me to others… BUT I am the stalkers… all this within 24 hours…
And so another day that the drama continues. I will not be on facebook/yahoo for awhile, if anyone needs to reach me they can do so via email.