When you hear the word "Chia" what is the first thing that comes to your mind? The first thing that comes to my mine is this cute little thing.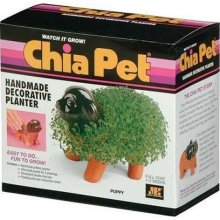 However, did you know that Chia seeds are extremely healthy for you! Yup that is right, these little seeds that most people heard about from a "pet that grew hair" is another super-food! Chia seeds are loaded with Omega 3's, Magnesium, Protein, Fiber, Antioxidants, and Calcium.
I was recently contacted to check out a company called Health Warrior. Two great friends, and former college athletes, Nick Morris and Dan Gluck, started Health Warrior. These two men started a chia daily. They first started with the daily dose of two tablespoons, which lead to four or more very quickly. Not only did these two friends find they had more energy, but they were also more focused. Nick ended up losing 20 pounds while doing his Chia daily.
Nick and Dan, learned that not all chia seeds were the same, the quality of the seeds varied. To get the full benefits these seeds offer, you need a good quality seed. So this is when Health Warrior began.
Currently Health Warrior only sells Chia Seeds; however, very soon they will also be selling another product. The Peanut Butter Chocolate Chia Bar is only 100 calories, and super good. I am in love with these bars!
The primary benefits, in taking the Warrior chia is to, sustained energy, increases satiation, better hydration, and increased focus.
What I love about the Chia Seeds:
I love that these little seeds have no taste, so I can add them to anything; my favorite way to include these seeds into my daily routine, is to add them to my strawberry smoothie! One of the recommended ways is also to add them to your water. I have a hard time making sure my body gets all the nutrients it should be getting daily. So the chia seeds are awesome. They assure me I am getting the fibers, proteins, and omega 3's my body needs, to help reduce the number on the scales. I mean check out all the nutrients are in ONE 16 ounce bag…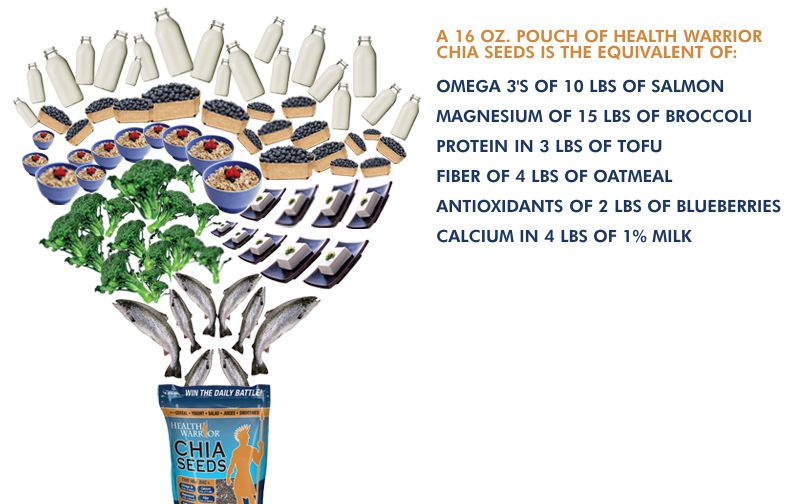 And… Don't get me started on the bars, one of my weak spots when losing weight is sweets. I love my sweets. The peanut butter chocolate chia bar not only gave me more energy, but it also soothed my sweet tooth.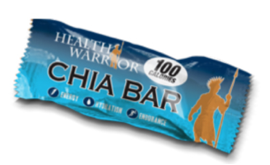 What I disliked about Chia Seeds:
I only noticed one thing I really didn't like about the seeds, and that is since they're so small they get stuck in your teeth. BUT this is not the companies doing… it is just how chia seeds are so there is no way around that one dislike.
Over all the Warrior Chia Seeds, make a great addition to any ones daily routine.
Purchase:
You can purchase a 16-ounce bag of Warrior Chia Seeds on their website, or Amazon for $14.99. Soon you will also be able to purchase the Peanut Butter Chocolate Chia Bars. By the end of the year, both products will be available to purchase in selected stores.
Connect With Health Warrior:
Website
Disclosure: I received samples of both the Warrior Chia Seeds, as well as the Peanut Butter Chocolate Chia Bars, I wish I had more of these bars! This is my honest opinion and other opinions will vary. I received no other form of payment.