Last week my family was invited to see the new Pirates of the Caribbean movie. When I got the email inviting us, my husband and daughter got super excited, me on the other hand it wasn't a real big deal… Confession time, I have yet to see the first 3 oops. Maybe now is a smart time to watch them since we own all three.
When I told my husband we was going to review the movie he wanted to do the actual review so I let him. Below you will find his review.
Review from the eyes of my husband:
The fine people at Disney allowed us to see the premiere of this movie in 3d. Being a longtime fan of the Pirates movie series I was quite excited to hear this news. The movie is a bit different from the previous Pirates movies. Because of circumstances in the story, many of the old characters you would expect to see are not present. However, don't be put off by that. The movie is a great experience; the story takes your favorite pirate Captain, the infamous Jack Sparrow on a swash buckling adventure to find the elusive fountain of youth. The movie doesn't have a dull moment and seems a bit faster paced than the previous three. I personally think the fact that the characters backgrounds are already well adapted gave them the freedom to not focus on back-story for plot as much and focus more on the action and adventure. The 3d implementation was very well done… The 3d is a nice backdrop effect throughout the movie with astonishing in audience effects at key points. At one particular point in the movie, I found myself reaching out to touch pieces of paper that were ripped up and thrown into the air by Captain Barbosa. If you're looking to see one of the best adventure movies of the year and in my personal opinion a perfect 3d experience, I highly recommend this movie for die hard Pirates fans or casual movie goers this is one you will definitely not want to miss.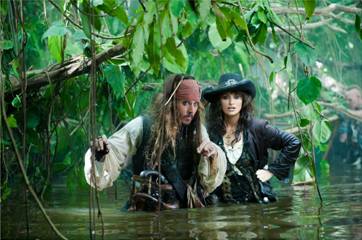 There you have the view of my husband. After we had seen the movie Gillian had asked me what I thought…
I thought it was really neat, this was our first time going to a 3D movie and I was amazed. I have to admit these movies are different than what I had expected them to be like. I will be watching the other 3 very soon.
I asked Gillian what she thought, and her words to me were "Mom if I had a million thumbs, I would give it a million thumbs up." She too loved this movie.
This is highly recommended by all three of us.
Disclaimer: Thanks to Disney my family was able to go see the pre screening of this movie, no other form of payment was received. This is only our opinion others may vary.