It has been a little awhile, okay so a long while since I last blogged about my weight. Yea, I know I said I was going to keep it up, keep blogging it that way, I couldn't hide from it. Truth be told, I am a coward when it comes to my weight. I hate the scales, the scales hate me… Whenever I see that damn number go up, I get depressed, and I shut down.
I know shutting down is not the way to do it, I should get mad as hell and work twice as hard, but quitting is so much easier. I was recently, introduced to a new weight loss pill called Slimple.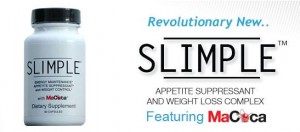 Slimple is supposed to help control your appetite and we all know if we eat less we will lose weight correct. Problem is some people eat because they are bored, or because they are depressed. I am one of those people that eat when I am depressed.
Slimple is the FIRST weight loss supplement that has a product called MaCoca in it.
What is MaCoca?
MaCoca™ is derived from the coca leaf plant. It was first cultivated in Huanca Prieto in northern Peru by the indigenous people of the Andes Mountains more than four thousand years ago. A high altitude plant, it can be found in Argentina, Bolivia, Brazil, Colombia, Ecuador, Peru and Venezuela. Traditionally, the coca leaf, when consumed in its raw form, has been used for a number of its medicinal and nutritional benefits ranging from alleviation of hunger, and dehydration, to combating fatigue and as an antidote to altitude sickness.
About a month ago, I started taking the Slimple pill, you know me I will try just about anything to see if I can see result. Sure enough, I started seeing results on the scale after the first week of taking these pills. After the first few days, I saw my appetite slow down. I started throwing the food away that I got because I simply could not eat another bite. I also, noticed while taking these pills, I became more active; I got up and moved more.
I can tell a difference in my upper stomach, it looks a lot smaller. The numbers on the scale are at a loss of 7 pounds… and to be honest, I have not been working out, as I should have been. Now you DO NOT need to work out, but like everything to see bigger results you need to bust your behind to get them. I also was only taking one pill a day; the recommended dose is twice daily.
Over all break down on Slimple:
I found Slimple to be just as it is described to be, I would not count on Slimple to drop you to a swimsuit perfect body. In order to get the best results, I recommend working out. I personally would not use this as a get skinny fast pill. I found this to be the best thing that I have tried to date that suppressed my appetite, I had no hunger feelings, and I really ate less. The price of the Slimple I personally think it a bit high for a one-month supply; however taking one pill a day, would make the price be about $30 a month since you get 60 pills in a bottle, which is worth it!
With only taking one pill a day, I still was more active, still ate less, and still seen results. I may have seen larger results if I was taking the 2 pills a day; however, I do not want to see large results extremely fast, that has me worried I will gain everything back PLUS some.
I do recommend Slimple to those that have issues with over eating.
Purchase:
You can purchase Slimple on their website for $59.95, they also have deals on their facebook page every so often. If you are unsure, whether or not this product will work you can always get a free sample to try. Slimple also stands behind their product and has a 100% money back guarantee, so you really have nothing to lose by trying these other then weight :)
Connect With Slimple:
Website
Facebook
Disclaimer: I am not a doctor, I am just another person struggling with her weight and trying to battle the demon one pound at a time. I did receive a month supply of this product to give my honest opinion… The above is only MY honest opinion, since we are all different your results will vary. I received no other form of payment for this review.