Gillian loves making things with play dough; however, she forgets to take care of it, so it gets hard and I have to throw it away. One thing I dislike is wasting money, and when she leaves the play dough out, and I have to throw it away, then I am wasting. I was recently introduced to Moon Dough by Spin Master. I personally thought it was going to be a silly product, and not worth purchasing. I mean dough that never dries out, yea right.
Little did I know, this product was going to be amazing. We received the Moon Dough Magical Zoo
in the mail for review. Gillian, was super excited when she seen what came in the mail. We took it out and started playing. Shh don't tell anyone, but this momma likes to play toys with her kiddo still. I started building fences, while Gillian started building animals.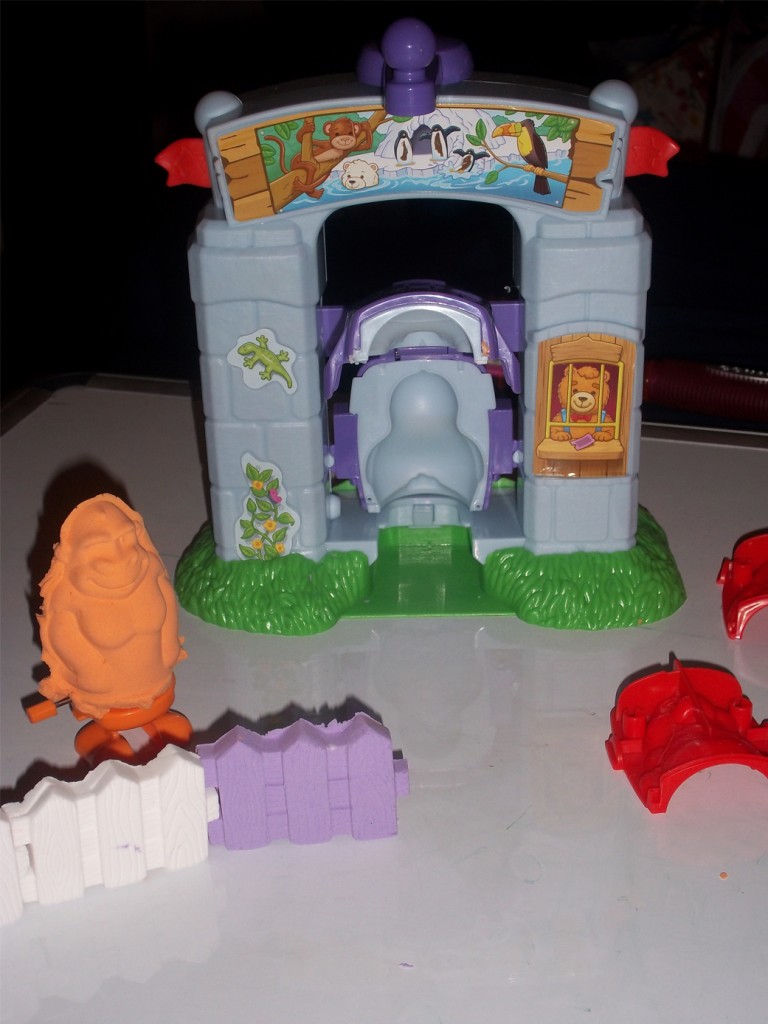 The Magical Zoo Moon Dough comes with:
The Main Building
1 White Moon Dough
1 Purple Moon Dough
1 Orange Moon Dough
1 Fence Mold
3 Animal Molds, (Penguin, Gorilla, and Bear)
2 Wind-Up Feet
1 Mold Holder
For some reason, I was thinking this was going to be like Moon Sand, and thought it was going to be one of those messy items. When I took everything from the box, and got the moon dough ready, I was surprised to find it wasn't messy at all. The consistency of moon dough is different, once I pulled it apart it reminded me of snow.
I had to check the most important part, the part about it never drying out. So I left it sit on the table over night, woke up still playable. Let is sit on the table for a week, hmm still playable. Nice a product Gillian can play with, have hours of fun with, and it will not be a waste.
Gillian's only complaint is "It is too fluffy." She tries to make balls with it, and it falls apart on her LOL.
Other than that this mom gives Moon Dough 2 thumbs up!
Purchase: Moon Dough can be purchased at many retailers. Retail value depends on the store, and what product you purchase. You can also purchase Moon Dough
on Amazon.
Connect:
Website | Facebook | Twitter | Youtube
Disclosure: I received the above product free of charge, no other form of payment was received. This is only my honest opinion others may vary.