Sometimes life can be extremely stressful, there are days I want to crawl in bed and stay there, because being an Adult at times stinks. One way to bring down some stress is reconnecting with your significant other. Pure Romance offers a wide range of products to help you and your significant other to reconnect, and release some stress.
Pure Romance started in 1993, what started out as $5,000, 55 consultants, a basement, and a woman on a mission turned into a multi-million dollar company with more than 40,000 independent sales consultants. If you are in the United States, Canada, Puerto Rico, or the Virgin Islands, and are interested in joining these successful women, you can get more information here. Or if you would just like to host a party you can find that information here.
Let me start by saying, I have heard of Pure Romance, but I never had the opportunity to check out their products. After receiving these items in the mail, I got to see first hand what I was missing out on.
My husband and I were recently sent a few products to test out. The items we received were…
Ex-T-Cee
Date Night Game
Sensations Variety Pack
Hot Heart Massager
Burning Desire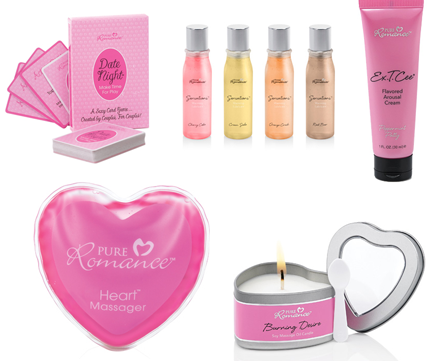 It is hard to say which product I liked the best, because I liked them all in their own way. I mean they each had a different purpose.
We had fun playing the date night game, this allowed us to connect with each other on a more personal level. Communication in a relationship is the key to a successful relationship. This game will also help those who have lost connection with each other to re-connect. To me it is very important to have that connection with my husband.
Ex-T-Cee, is another amazing product, this is a female enhancement cream, I don't know about you, but sometimes I just am not in the mood, so this helped me get in the mood, and my husband not be fussy! I love how this produce comes in different flavors, we received the cotton candy flavor, and I was surprised on how much it tasted like cotton candy.
The sensational pack comes with 4 yummy flavored warming lubricates. Personally, I felt this product was a bit messy to be used as a lubricate. Still loved the flavors, and loved the effect it had, just a bit to messy for me.
The hot heart messager ROCKS! I love this product, it is also really neat how it works. This product is a plastic heart, inside there are beads, and a metal thing, you bend the metal thing and the beads warm up and it comes like a mobile heating pad. Once it cools down it gets hard. To reuse this product you boil it in water. The full directions are on the box, my husband also loved this product he uses it for his lower back.
The burning desire candle is another amazing product, as I have stated in previous posts, I love multi-purpose candles. This candle smells so good, and getting a massage with the oil is amazing. Of course I have been making my husband give me some nice massages.
I am very amazed and impressed with Pure Romance products, and would highly recommend them to those thinking about purchasing. I was not disappointed in one bit.
Purchase:
You can purchase pure romance products from a consultant in your area or via their website. Prices range by product, size, and quantity.
Disclosure: I received the above products for review purposes only, no other form of payment was received, and receiving the product didn't alter my opinion on these products. Again this is only my opinion and others will vary.