At what age, do you think it is time a child learns about money? I personally think teaching a child the importance of money at a early age will help them better understand certain concepts once they get older.  I have always been the one in my family to manage the bank account. The one to assure money got put in the proper places. For instance, so much for groceries, so much for bills, so much for savings.
I will be honest, the savings lacked, because after everything else was done and paid, there was no more money. However, my daughter seen how I would budget our funds, and would often watch as I did the bill paying.
Prosperity 4 Kids, offer several items, that will make teaching your child about money, and financial responsibilities easy on you as a parent, and at the same time fun for your child. I am a strong believer that children learn more, when they are having fun learning the material.
I received the Money Mama the Smarter Piggy Bank and the It's Only a Dollar… Until You Add to It! Allowance Chart Calendar for review.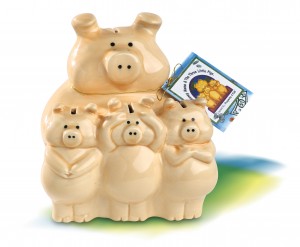 The Money Mama the Smarter Piggy Bank, is a total of 4 piggy banks, they each have their own money slot, as well as their own way to get the money out. The are completely divided, so your everyday money, will not get confused with your savings, donation, and investment money.
I love how the bigger portion is for your everyday, the way it is explained is for every dollar you earn 70% goes to everyday, 10% to charity, 10% to savings, and 10% to investing. Pretty simple, this makes it easier for your child to understand, and not be so confusing for them.
When I showed this to Gillian, and explained all the concepts, she went hunting for change. She than sat down and counted all the money into one dollar piles, put 70 cents out of each pile to her everyday, 10 cents from each pile to charity, 10 cents to savings, and 10 cents to investment.
This bank retails for $24.95 and really does give your child an easier way to understand about spending, and savings.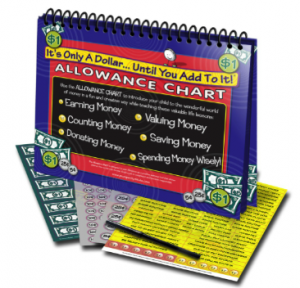 The other product we received is the It's Only a Dollar… Until You Add to It! Allowance Chart Calendar! I found this to be another great product. This product I felt had many purposes, the main purpose showing my daughter she had to work for what she wanted. Children sometimes do not realize that if they save those dollars they get for doing chores, they will add up very quickly. Might not be as fast as they are wanting but with a little time, they will have their goals meant before long.
My favorite part about this chore chart is the fact it's reusable, and the visual prompts that come with the chart. This chart also includes a page so that your child can put their "goals, dreams, and desires" this will easily let them see their progress, in trying to save for those goals.
This Allowance Chart retails for $15.99 and can be purchased via the Prosperity 4 Kids website.
One thing I have learned as a parent,  is children have an easier time understanding when they see the progress with their own eyes.
It is never to early to teach children about spending and saving. For more fun ways to help your child learn about financial literacy be sure to check out Prosperity 4 Kids.
Connect:
Website | Facebook
Disclosure: As stated above, I received product for review purposes only. No other form of payment was received.