What is a Gomu you ask? It is a new item that hit store shelves in the Spring of 2011, it is going to make all the boys and girls beg their moms and dads for them for special events. They are going to be traded for other cool Gomu erasers, and they are going to make your child the envy of all their friends.
To give it to you straight, they are collectible erasers. These fun neat erasers come in over 100 different shapes, sizes, and colors. Some of the designs include pets, zoo animals, and even gadgets. Gomu erasers are geared towards children 6 years an older.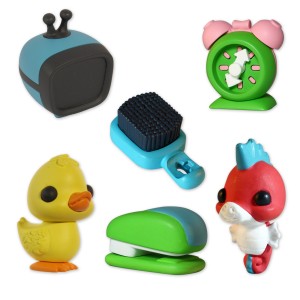 I HIGHLY recommend you stick to the age of 6 and up, these cute erasers are like puzzle pieces, and most parts come off. So these would be a choking hazard to smaller children.
We received a few different package for review, I didn't tell Gillian we were getting them, so when they came she freaked. She started opening them, and checking each one out.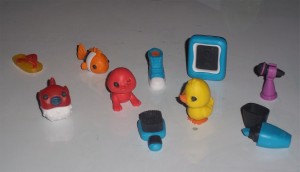 If you can see on the orange duck like thing seal it is missing an eye, Why? Because, Gillian was playing with them over her computer and it fell into the keyboard, and she cannot get it out. Guess mister duckie wanted to see the letters. One of the main things I like about these new collectibles, is they are affordable.
The prices do vary depending on which store you purchase from, the single packs retail for about a dollar. Cheap prize for cleaning their rooms, a 6 pack goes for about $4.99. Of course the smart buy is the 6 pack, but sometimes we only want to get our kids a small prize so a single pack would do the trick. The Gomu erasers will make great stocking stuffers come time for Christmas.
The Gomu website, also has a neat little collectors tool. This tool lets you check which Gomu erasers you have and it gives them a point value. The higher the point value the harder it is to find!
When I asked Gillian what she thought about the erasers, she said "they are pretty neat erasers, but I wouldn't use them as erasers, because they look so much neater as toys"
We would give the Gomu erasers 2 thumbs up!
Purchase: You can purchase Gomu erasers at stores such as, Target, Kmart, Wal-mart, and Toys R Us. The prices vary depending on store and which package you purchase.
Connect:
Website | Facebook |
disclosure: We received  above product for review purposes only no other form of payment was received. This is only our personaly opinion, others will vary.