I cannot believe school is about to start! It seems like we just got done, now we get to start right back up again. Shortly after Gillian starts, I start fun, fun!
Did you know one way that you can make your child smile while at school, is by placing a small note in your child's backpack. When Gillian was going to public school, I would surprise her with showing up for lunch. She loved having her momma there, she would make sure all her friends new I was her mom.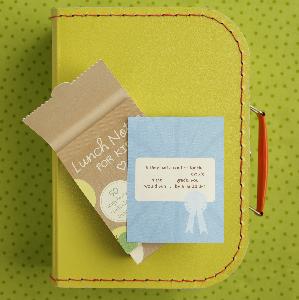 Letting your child know that even though they're not in your presence, you are still thinking about them, will not only make their day better, but it will also help build their confidence. Hallmark has the perfect thing to help you in making your child feel special, and loved while at school!
What's included in the Hallmark Confidence Care Package:
· Hallmark's Kids Collection three-card pack, which feature topics for young kids, including nerves about school and positive reinforcement for hard work, as well as topics for tweens/teens, such as peer pressure and choosing friends wisely.
· Lunchbox Notes — 50 ways to add a little love to lunchtime.
· Bug'Em — a pint-sized plush that can hold cards and other tokens of encouragement.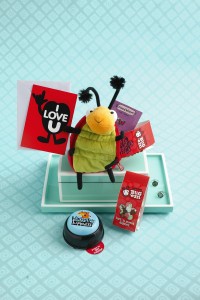 The Bug'Em plush is super cute, and I will be using this just for leaving Gillian notes through-out the day. If you are a home schooler like we are, this is also a nice package for you! Just because you home school, doesn't mean you cannot leave little notes laying around for your kids! Remember, it makes our children not only feel loved, but special.
Before sending your children off to school each day this year, make sure to check the Hallmark's Back to School Confidence Checklist!
Hallmark's Back to School Confidence Checklist
o Let them hold onto your words. Kids often get embarrassed when parents say "I love you" in front of their friends. Think about sticking a card in their backpack or inside a textbook, so they can find it later and hold onto it all day.

o Surprise your child with a lunchtime delight. Fruits and veggies will help a kid be physically fit, but don't forget about a child's emotional wellness. The unexpected "I love you" or "good luck" will let your child know you're by their side, even after they get on the school bus.

o Pass the encouragement bug around your family. Challenge the entire family to support each other by passing around the encouragement bug — Hallmark's Bug 'Em. One person starts by filling Bug 'Em with treats, a coupon to do something nice (e.g., make their sibling's bed) or a kind note of encouragement, and then leaves Bug 'Em where the recipient will find it. Once the recipient finds Bug 'Em, he or she is charged with surprising another family member and spreading the encouragement bug.
One lucky reader of The Neat Things in Life, will be receiving the same confidence care package from Hallmark, that I received. You will receive, the cute Bug'Em plush for holding those notes, a set of 50 lunchbox notes, and 3 Hallmark Greeting Cards. To enter just use rafflecopter!
You can purchase these same items at stores that sell Hallmark products, prices may vary depending on the store.
Connect With Hallmark:
I received this same confidence package, no other form of payment was received, all opinions are solely my own.