Can you believe, I have not seen a single one of the Harry Potter movies! My daughter and husband LOVE them, me on the other hand, just cannot get into them. They say never to judge a book by its cover, right? I tend to judge movies, before I even give them a chance. I think a lot of it has to do with the fact they are so long!
I am a busy momma here, I got other things to do. Okay, not really, but I would rather be online, than watching certain movies.
Gillian is getting to that age, where she wants to try new things, in the kitchen. So when I was asked if I would be interested in doing a review on The Unofficial Harry Potter Sweet Shoppe Kit: From Peppermint Humbugs to Sugar Mice – Conjure Up Your Own Magical Confections
, I just had to say YES! This would be something awesome for Gillian, and I to do together.
What You Will Find in The Kit:

The Unofficial Harry Potter Sweet Shoppe Book: 35 easy-to-make recipes for treats like Butterscotch Brew, Treacle Fudge, Strawberry and Peanut Butter Ice Cream Cones, and Coconut Ice.

Chocolate Lollipop Molds: a tray of 9 different molds in fun shapes like frogs, brooms, flies, and owls

Broom-Shaped Lollipop Sticks: to make your sweets extra special
Glassine Bags with Ties: for when you want to share your treats with friends and family!

With a dash of magic and a drop of creativity, you will conjure up the same treats sold in Harry's favorite candy shop–in the comfort of your own kitchen!
When the kit came in the mail, Gillian and I flipped through the book, checking out all the neat recipes! A few caught our eye, such as the Coconut Ice, and the Sugar Mice! I currently do not own a candy thermometer, so our options are a tad slim.
We chose to make the Coconut Ice, now you do need a Candy thermometer with this, however, we worked around it!
The instructions were pretty easy to follow, this took almost an hour to complete. The end result was not that bad, super sweet though!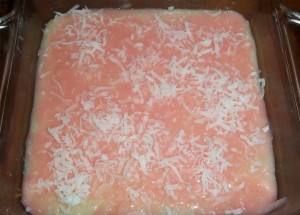 Next, we will be making Sugar Mice, because those seem like they will be fun to make! Interested in checking out some of the recipes from the Unofficial Harry Potter Cookbook? You can get it right now for FREE on Amazon, for the Kindle! Don't have a kindle? No worries get the computer version, and never miss a free book again!
You can purchase this same kit on Amazon
for $16.47! I want to make bugs with the molds for the holidays!
Connect:
Website | Twitter | Facebook
Disclosure: We received product to conduct this review, no other form of payment was received, this is my honest opinion and others may vary.