I almost passed this opportunity up, because I thought my daughter was a bit to old for VeggieTales. I asked her if it would be something she was interested in and she said yes, so I went ahead and took the opp. I have never personally sat down and watched VeggieTales until now.
Believe it or not, my daughter has yet to watch this, and I watched it alone.
VeggieTales:Princess and the Popstar is about two girls, each with totally different lives. One being a famous singer, the other working on her families farm. Both girls thinking their lives would be better, if different.
One famous quote we often hear is "The grass is greener on the other side", but is it really? In this new movie Princess and the Popstar, it shows children, that just because they do not have the most expensive things life can buy, it doesn't always mean things on the other side, as in them being rich will be any better. Our lives are what they are for a reason.
I am always telling my daughter to be herself, I think that is one important thing we can instill in our children, is be who they are, and not what others want them to be.
I was very impressed with how this movie is laid out, and how it shows what each girl was thinking towards the end… How both girls finally realized their lives weren't so bad after all. Just because one has money, and is famous, doesn't always mean they are happy.  This is one of those movies I will encourage my daughter to watch. Psss Don't tell anyone, but I also liked the music… shhh this is OUR little secret.
VeggieTales: Princess and the Popstar will hit store shelves on August 16th, 2011, and has a SRP of $14.93. Would you like to see a sneak peek?
Quick Summary:
About VeggieTales Princess and the Pop Star: A Story of Trading Places:

Princess Poppyseed's life on her family's farm is far from the glamorous but lonely world of her favorite pop singer Vanna Banana. On a chance meeting at a playground, Vanna and Princess cross paths and realize that they look almost exactly alike—which leads to the crazy secret plan where they decide to switch lives! As each girl realizes that the life they longed for doesn't fulfill all of their dreams, they learn that the life God gave them is the one for which they were uniquely and lovingly designed.

DVD Bonus Features:

Audio Commentary
"Astonishing Wigs" Silly Songs Sing-Along
"Right Where You Belong" Sing-Along
Behind the music with Francesca Battistelli and Friends
Princess Poppyseed's Points For Being Uniquely You
One lucky reader of The Neat Things in Life, is going to have a chance to win the same DVD for their child.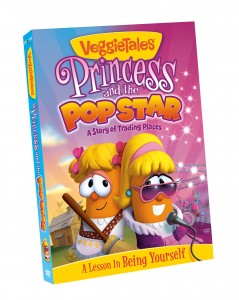 I received a sample of this DVD, for review purposes only, no other form of payment was received. This is my honest opinion and others will vary.