Who would have thought to let the kiddos color with water! Not only is Aquadoodle, mess free it is also great for kids of all ages. They will have hours of fun showing off their imagination. We recently, had the chance to check out both the Aquadoodle Mat, as well as the Aquadoodle Buddy!
Gillian loves them BOTH.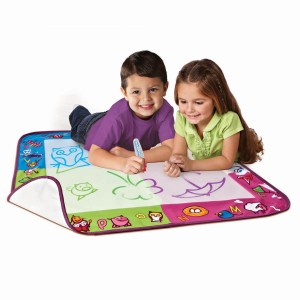 The Aquadoodle Mat retails for $21.99, and comes with the Aquadoodle Mat, as well as one Aquadoodle Pen. It is recommended for ages 2 and up, I honestly think this would be great for even a fussy one year old. The Aquadoodle Mat, has a fun 4 color background, thus allowing your child to express themselves, and their creativity with, red, purple, blue, and green.
My favorite features of the Aquadoodle Mat, is the fact the marker never dries out, so no more having markers that stop working. Just add more water and let the kiddos color. I love the fact that once the mat dries you can draw more, this eliminates wasted paper.
One thing I dislike is when Gillian is drawing and she messes up she grabs for another piece of paper. Usually going for the printer paper, having the Aquadoodle mat, now when she tries to draw new things, she can practice on the mat until she has it perfect, then she can move it to paper.
For only $21.99 the Aquadoodle mat would make a great gift for any child! Hang it on the wall and watch the kids have fun drawing some great pictures.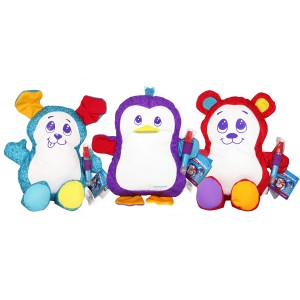 Aquadoodle also has another great product called the Aquadoodle Buddy. These little guys are super cute. Aquadoodle Buddy retails for $9.99 and comes in three different designs the dog, bear or penguin. Each Buddy comes with its own Aquadoodle Pen.
We received the penguin for review, and Gillian loves it. The Aquadoodle Buddy would make a great travel toy. This giving the children hours of fun, and leaving mom and dad headache free. No more hearing are we there yet. Instead let the children draw on their buddies what they are seeing as you drive. Or they could even play some fun games on these guys like tic tac  toe!
Aquadoodle Buddy is suggested for ages 2 and up, however, I personally think this would be a great product to throw in the diaper bag, and have for backup at the grocery store, or in the doctors office. Sure mom may have to help those younger than 2, draw on the belly of these cute animals, but I would rather have a happy baby then a crying baby.
You can purchase Aquadoodle products in store such as Walmart, Target, Toys-r-us, KB Toys, and Kmart. Prices on products vary depending on store, and product.
Connect With Aquadoodle:
Website | Facebook | Twitter |
We received product to conduct our review, we received no other form of payment, nor did it alter our opinion. This is 100% my opinion and others may vary.