I have had a heck of a time getting Gillian to sit down and read. She can read pretty well, she is always looking things up online, and reading. However, she never seemed to interested in actually reading books. I tried everything, then we came across the I Can Read series in the store one time, and she seemed to really enjoy them.
The I Can Read series comes in different levels.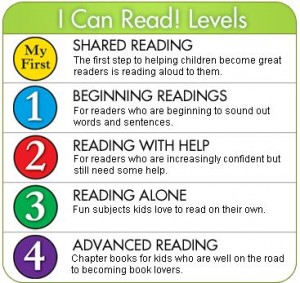 With over 200 titles, you are sure to find something your child will enjoy reading. We recently, had the opportunity to check out the I Can Read Made By God Series. This series is designed for children ages 4 – 7 so it is not much of a challenge for Gillian. However, she loves animals, and these books not only have amazing pictures, they also teach her different things about her favorite animals.

In BARNYARD CRITTERS ($3.99), readers will learn that male cows, called bulls, can weigh up to 3,000 pounds and that pigs actually like to live in clean pens.

In CURIOUS CREATURES DOWN UNDER ($3.99),they'll discover that the koala's favorite food is the leaf of the eucalyptus tree and that certain kangaroos can jump six feet into the air.

In POLAR PALS ($3.99), readers will find that the polar bear's favorite food is the seal and that the emperor penguin is the largest penguin in the world.

In FOREST FRIENDS ($3.99), young readers learn that moose can run up to 35 miles per hour and that porcupines are talented tree climbers.

And, in JUNGLE BEASTS ($3.99), it is revealed that anteaters can eat up to 30,000 ants in one day and that elephants are the largest land animal on Earth.
Being a home schooling family, I love the I Can Read Series. They advance with her, and they are worth the money. These are books that she can keep and read whenever she gets bored. With there being so many titles, she is likely to always find one that she loves. I would love to be able to get her a few of the chapter books for Christmas.
If you are like me and have a child, who isn't a "fan" to reading, the I Can Read books, will move your child in the direction of loving to read. Gillian gets in bed, and reads without being told!
You can purchase I Can Read books at stores such as Walmart.
Make sure to check out I Can Read's website, for great activities!
We received product to conduct this review no other form of payment was received.