With being home schoolers, we tend to prepare for back-to-school a bit different than the public school family. Roughly, two weeks before we begin our school year, I will sit down and set a schedule. When we will school, when our breaks will be, and so forth. I try to keep our school times around the same as the public schools. This makes it easier on me to keep track of when we take our breaks.
Gillian and I then sit down, and we discuss what she is interested in learning during the school year. If it is sea life, I will base some of our work around sea life. I have found, when I mix up our schooling, she tends to pay more attention and learn the material easier. One great thing about being home schoolers, is we move at our own pace, and we do not rush through the work. If I feel Gillian needs more time on a certain area we will work on that area a bit more until we know she is ready to move on.
I also like to wait until after school starts to make our way to the store to purchase school supplies. We mainly purchase craft items, and by waiting to get what we are wanting, I can usually score some great deals.
However, if you're like me, and you don't want to fight the crowd you can always head on over to tiny prints and see what they have to offer for back-to-school. I personally like their academic planners, family planners, and the candy laced notepad!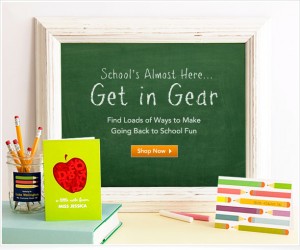 How do you prepare for back-to-school? I would love to gain some tips from my readers!
I was provided a Tiny Prints gift card in exchange for this post. All opinions are my own.