With being a busy mom, I like to find quick, and easy recipes to cook for my family. Sometimes, there just doesn't seem, like there is enough hours in the day. Recently, I learned about Ready Set Eat, and discovered that you can make quick, healthy meals using Chef Boyardee.
Chef Boyardee has been a favorite in our home since I was a kid, and I would have never guessed, I could add a few other ingredients and make a yummy dinner. These great recipes, take anywhere from 5 to 7 ingredients, and the prep/cook time 20 to 35 minutes. I new right away, what meal I was going to cook. I am a lasagna lover, I make it several different ways, and it is so yummy. So I had to try the Ravioli Lasagna.
Ravioli Lasagna
Prep Time: 15 Minutes | Total Cook Time: 30 Minutes | Ingredients: 6
Ingredients
PAM® Original No-Stick Cooking Spray
1 cup frozen loose cut leaf spinach
2 can (15 oz each) Chef Boyardee® Beef Ravioli
1 can (14.5 oz each) Hunt's® Diced Tomatoes, drained well
1-1/2 teaspoons dried Italian seasoning
1 cup 1% low-fat cottage cheese
1/2 teaspoon ground black pepper
1 cup shredded Italian blend cheese
Directions
Preheat oven to 375°F. Spray 8×8-inch glass baking dish with cooking spray. Place spinach in microwave-safe bowl. Cover with plastic wrap and microwave on HIGH 2 minutes; squeeze spinach dry.
Combine ravioli, drained tomatoes and Italian seasoning in medium microwave-safe bowl. Cover with plastic wrap and microwave on HIGH 3 to 4 minutes or until mixture is hot. Combine cottage cheese, spinach and black pepper in small bowl.
Place half of ravioli mixture in bottom of baking dish. Top with half of cottage cheese mixture and 1/2 cup shredded cheese. Repeat layers. Bake 15 minutes or until cheese is hot and bubbly.
Cook's Tips
Involve the kids with the preparation. They can stir together the cottage cheese mixture and help layer the ingredients in the dish. Trying to please a picky eater? Substitute the spinach with another vegetable the family enjoys. You also could place all of the spinach mixture between the layers of ravioli or leave the spinach out completely.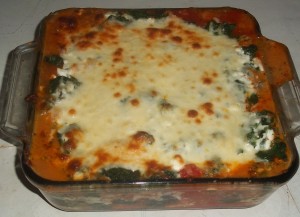 Doesn't that look so yummy! This was quick and easy to make, and it tasted super yummy. I honestly was not sure what to expect when I took my first bite. I asked Gillian how she liked it and she loved it. I will be making this again, however, I will be altering the recipe just a little bit. I personally thought the spinach was too much. The next time we make this, I will be removing the spinach and adding mushrooms instead.
Next, I will be making the Pepperoni Spaghetti Bake, I have a feeling Chef Boyardee, is going to be finding its way to my table more often.
Be sure to visit Ready-Set-Eat for more Chef Boyardee recipes.
I wrote this review while participating in a campaign by Mom Central Consulting on behalf of Chef Boyardee and received a gift card to facilitate my review and a promotional item to thank me for taking the time to participate.