My husband and I grew up when Zelda became big, now that our daughter is getting older we are getting her into Zelda. I first came across STL Ocarina when entering giveaways. I new this would be something both my husband and daughter would love. With being home schoolers, it is important that she learns some sort of musical instrument. With my husband being good with music I thought this would be awesome to win.
However, I was not the lucky winner, instead I got an email, and I asked if it was possible to do a review. To my surprise they said YES, and sent us the 12 Hole Tenor Ocarina (Special Edition) with Zelda Songbook and Protective Bag! This Ocarina retails for $94.70, and is on sale for $84.00.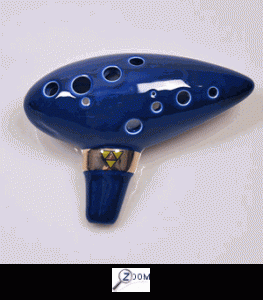 STL Ocarina has several other ocarina's in different designs and prices. Right now if you purchase an Ocarina, they also will give you free lessons online. How awesome is that!
Watch my husband's review on The Legend of Zelda Ocarina
My thoughts:
I think this is awesome, and the fact that it is like the one Zelda has, makes it so much neater. I am extremely glad we had the opportunity to check it out, and I cannot wait until my daughter becomes a pro.
If you're a homeschooler, and looking for a musical instrument that will keep your child interested this is it! You can also make this into a history lesson, by teaching your child the history of the Ocarina.
Connect with STL Ocarina:
Website | Facebook | Twitter | Youtube
I received product for review purposes only, no other form of payment was received. This didn't alter my opinion in anyway.