Moving back up North, and being around more kids, I know my daughter is going to get sick. Not something I am looking forward to, but definitely something I can be prepared for Kleenex has some new designs, that will make grabbing a tissue on the go a lot more convenient!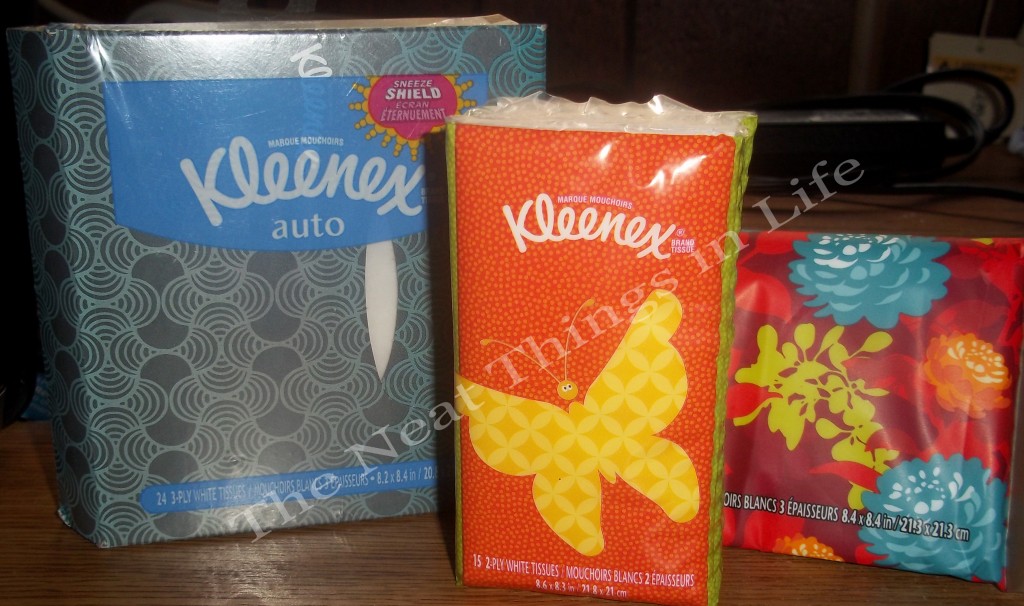 We received 3 packs, the wallet pack, which would be perfect for the purse, in the store and you have a little one with a runny nose, you are prepared! It seems like the nose doesn't start running on this end until we are in the store.
The auto pack, which fits nicely on the side of the door. My husband is always looking for tissue when we are on the go, ends up using a receipt, because no tissue around. Kleenex will be there to save the day the next time he needs to grab a tissue.
The pocket pack, this is my favorite pack, I can stuff it in my daughters pocket when she goes outside to play, no more having to run in to get toilet paper. Kleenex has always been out friend during the winter months, I am glad they have come out with new designs and styles, so they can be our friend through out the years, what I love about kleenex, is the fact it is soft, so no matter how much I am blowing my nose, it isn't really irritating it.
Kleenex is also having a back to school giveaway going on right now! Below you will find the details…
Right now, you can enter the Kleenex brand Back to School sweepstakes to help your school win a share of the cash to help fund school field trips. Here's how:

Visit www.Facebook.com/Kleenex.
Click on the "Field Trips" tab at the top of the page
Vote for your favorite participating school -or-
 Register the school of your choice by clicking the "Add a School" box and filling out the digital registration form
The top 100 U.S. schools that finish with the most votes on the Kleenex brand Facebook page will receive a $5,000 award from the Kleenex brand.
Voting ends on September 14 • Visit Facebook.com/Kleenex for complete entry requirements and to learn how you and your friends and family can help win field trips for your child's school.

I received product from mom bloggers club, and kleenex to bring this review, I did not receive no other form of payment, and this is my own opinion on kleenex brand. Yours may vary.