Do you often hear "mommy I am bored", but you don't have anything around the house but all the same things to do everyday. Maybe when you hear "mommy I am bored" you read your little one their favorite book, put their favorite movie on the TV, or maybe you sit on the floor and play dolls with your little one.
Have you ever thought about breaking out the craft supplies, and doing some arts and crafts with your child? Arts and crafts are a great way to get the little ones mind into creative mode, and what a fun way to help bring mommy and child closer. What no crafting products suitable for a preschool aged child? Not a problem, recently I was introduced to Shirley's Prepackaged Crafts.
Shirley's prepackages crafts are $18, unless you wish to purchase in advance, then you have a few other options. The main purpose of these craft boxes were to give moms an easy way to spend more time with their little ones. This helps take the stress of planning and preparing away from mom.
We recently received the Septembers craft box, and I have to say, it wasn't what I was expecting.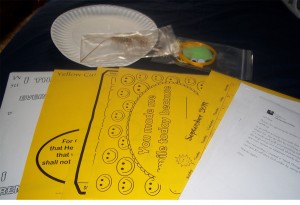 I personally thought this was an awesome idea, it gives parents everything they need to do 12 projects with their little one. Not only does it give you the instructions, it also gives you everything you will need to do those 12 crafts. How awesome is that!
Want to check out these packages for yourself? One lucky reader of The Neat Things in Life, will get November's craft package. In this package you will receive…
November 2011 box of crafts
Craft projects this month:
Bible Craft: Samuel Anointing David
Shape: Rectangle – Train
The Color Blue: Blue Jay
Falling Leaves
Veterans' Day
Nine-month Book, "God's Children Around The World" (pages 7 & 8)
Nine-month Book, "God's Children Around The World" (pages 9 & 10)
The Number 3: Books
Fish Hat
Tractor & Trailer
Thanksgiving Table Tents
Bless The Harvest Windsock
Please note you need your order in by the 15th of the month, and they ship the boxes out on the 20th. This helps them keep cost down, by preparing only the boxes they need to ship. If you use code Neat Things (case sensitive) you will get $2 off your first order. Plus there is free shipping!
So now on to the giveaway!
One reader will win Novembers craft box with the above items in their box. To enter you MUST complete the mandatory entry before moving on to the extras.
Mandatory: Head on over to Shirley's Prepackaged Crafts and telling me something you learned.
Want Extra?
Don't forget to Connect with Shirley's Prepackaged Crafts:
Website | Twitter | Facebook
Code for $2 off your first order: Neat Things
Giveaway ends on October 10th, @ 11:59pm EST. Winner will be picked via and the winner is plugin, and contacted via email. Winner will have 48 hours to contact me back so I can get your information over to the sponsor.
I received a craft box, all opinions are mine. No other form of payment was received.