Have you ever wondered what you would be doing if you didn't have a computer, cell phone, or the internet? Would you be a better house wife, or maybe you would be a better cook. Technology has consumed the majority of our lives. We get off the computer long enough to make sure the house is cleaned, dinner is cooked, and the kids have their school work done, then it is right back to checking those emails, responding to new business leads, and chatting away with some great friends we have met over the years via the internet.
Have you ever thought about giving yourself a technology timeout? Well, I have many times, and it only leads to me right back on the computer, on my little "breaks" as I like to call them. Recently, Hallmark gave me a little challenge, and of course I took it. I love a challenge!
As part of its Life is a Special Occasion campaign, Hallmark has launched BlogOut. This is  a challenge to turn off technology and turn up the relationships with those around you.
So I did just that, now I didn't drop it for a 24 hour period, however, I did drop it for several hours, and this continued over a 4 day period. I will be the first to admit, when we lived in Tennessee, I lived online. Now that we are in Michigan I unplug technology quite often.
Hallmark sent us a Hallmark Interactive Story Buddy and Story Book to help with our together time. The interactive story buddy and story book helps to encourage clear pronunciation. In the story there are certain phrases your buddy will respond to if read clearly.
We received Abigail, she has become a great new addition to our family.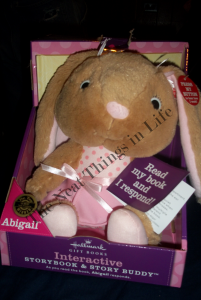 What we did for BlogOut with Hallmark…
We went walking! With the weather becoming cooler in Michigan, and the leaves changing, it is the perfect time to explore the woods. The smell of fall is so refreshing.
We picked apples off the old apple tree for the deer.
We went to the store and picked out the perfect pumpkin, which we will be carving within the next week or so. We also went and hung out with my baby sister and her family. This BlogOut was well needed.
What would you do if you were to do a BlogOut? Matter of fact, I challenge you to do a BlogOut, and Hallmark is helping me challenge you. One lucky reader of The Neat Things in Life, will win their very own Abigail.
Mandatory: To enter head over to Hallmark's Life is a Special Occasions page and tell me something you learned, or something you will be doing during the BlogOut Challenge. Once you have done this, you may do the extras.
Want Extras?
2 Extra each! Make sure to leave 2 comments per extra you do.
Like Hallmark on Facebook.
Become a GFC of The Neat Things in Life
Like The Neat Things in Life on Facebowok
Become a GFC of my other blog.
Subscribe via email.
Follow me on twitter.
Daily Entries
Stumble, Like, Tweet, Google + the post.
Make sure to leave a comment for each you do.
Example tweet: Do you have what it takes for BlogOut, enter to #win Abigail  from @mommysdizzy and Hallmark. #giveaway
5 extra
Blog about the giveaway linking back to this post.
Giveaway is open to US residents 18+, and will end on October 28th, 11:59pm est. Winner will be selected with the and the winner is plugin, I will email the winner and they will have 48 hours to respond or a new winner will be drawn.
I received Abigail as well for my participation in the Hallmark BlogOut Campaign.