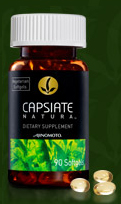 I have been trying to lead a healthier lifestyle, however, it is not easy when you have all sort of extra baggage. So trying to rid my body of those extra pounds has been tough. I have leaned on many products to help guide me in my journey. I have found some to work amazingly well, and others not so well.
I recently had the chance to try out a product called Capsiate Natura. You maybe wondering what the heck is that. Well let me explain, for many years people have been using chili peppers not only to flavor their food, but also for medical reasons. Chili peppers have many benefits such as… fighting cancer, helps with pain, fights inflammation, helps with sinus problems, protects your heart, and even helps with weight loss… The problem being chili peppers are often way to hot for many to consume, such as myself.
So a professor at Kyoto University started an ongoing research of these chili peppers. In his investigation he discovered some less pungent peppers among the extremely pungent CH-19 variety of chili peppers that are cultivated in Thailand. This is when a new sweet chili pepper was born. It was named CH-19 Sweet pepper, and it became a source for natural capsinoids, which is the key rare ingredient in Capsiate Natura. You can find out more information about Capsiate Natura's site.
I have heard of all these great benefits of chili peppers, however, I am one of those ones that cannot have spicy foods, so I was excited to test Capsiate Natura. While testing out this product I found that I had more energy through out the day, and I did notice some weight lose. It wasn't a lot of weight loss, but the I did find I was able to do more through out the say without feeling sluggish. For best results like all weight loss products you get better results by working out.
I do believe if I would have pushed myself to what I know I am capable of doing, I would have seen a better result on the scales. However, this is not a lose weight fast pill, this is only a supplement and although it works and helps some it may not work and help all. The main result is whether you change your eating habits and exercise routines.
I received samples for review purposes only, no other form of payment was received.