Do you remember when I did the post on Squinkies, and I stated they were going to be a big hit for the 2010 Holiday Season? Well, I was right, they were a huge hit. They were so huge, Squinkies now come in, Disney Princesses, Hello Kitty, Barbie, and now they have Themed squinkies for the BOYS!
Some of the boy Squinkies include, Marvel, Cars 2, Hot Wheels, SpongeBob Squarepants squinkies
, and so much more! They also have neat little ride on ones.
Recently, a package that I was not expecting showed up, and what was in side? Let me show you…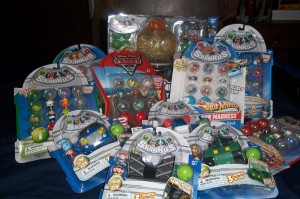 How awesome is that! If your daughter is anything like mine, she doesn't care that these were made with boys in mind. She only cares that they have "Squinkies" on them. She would rather sit for hours playing Squinkies, then playing dolls, or barbies. I love the fact that they do come in the Barbie theme. However, out of the boys line her favorite is the Skull Cavern! She also loved the Cars2 Squinkies, she thinks those are neat, and wants the whole set.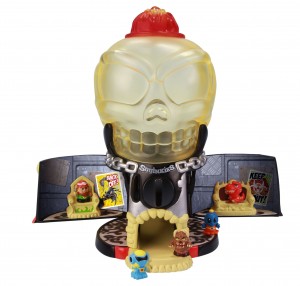 When we first discovered Squinkies last year, Gillian saved all her birthday money, and went and purchased all of the ones that were out, shortly after they came out with even more new ones, and she was out of money. The night this package arrived it was like she new, because she started talking about how she seen Squinkies had boy ones, and how they looked awesome.
When she was younger for the holidays she wanted items like this, she would have rather had 50 cent homies from the machine, over the 30$ Dora we purchased. To this day she is the same, she would rather have Squinkies, over any of the big toys. Something about how they are.
If you are not familiar with Squinkies, they are cute squishy toys, that you can place at the end of a pencil, they can also be traded, and collected. Gillian loves collecting them. I personally do not recommend these for smaller children.
Squinkies can be purchased at stores such as Wal-Mart, Target, Toys R Us, and other major stores. Squinkies will be yet again another hit this Christmas, not only are they affordable, they are also fun!
Moms, just because these Squinkies show they are for boys, I bet your girls will love them as well! What this mom loves about squinkies, is they are AFFORDABLE, they come in all the fun themes, and they can be traded.
Giveaway on Dizzy Mommy Chronicles.
Connect with Squinkies:
Website | Facebook | Twitter | Blog
We received samples of the boys line for review purposes no other form of payment was received.