How many of you wear glasses and find it extremely hard to wear sunglasses? One of the main things I dislike about Summer is the bright sun. Having worn glasses since 7th grade the sun can become quite bothersome. Often times I find myself squinting to try and avoid the bright sun light.
Recently, I was contacted to do a review on the Best Under The Sun line of sunglasses from polaroid-eyewearstore.com. I was a bit iffy because like I stated I wear prescription glasses, so I was worried about being able to wear these sunglasses. I figured I would just give them to my sister. Well, my sister didn't get so lucky, the FLOWER sunglasses came, I was so excited I put them on over my normal glasses and BAM. It was history, I quickly claimed these bad girls as my very own.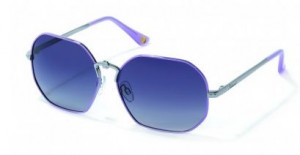 Not only are they a pretty purple but they also have a flower in the middle, this design is to give them that 70's look.
Product Description:
These unique sunglasses evoke the spirit of '70s flower power.  Optimism and self-expression are reflected in the original flower detailing, gradient lens and frame shape, making these must-have Polaroid designer sunglasses.

Polaroid polarized lenses for glare-free vision
100% UV400 protection – protects eyes from UVA, UVB and UVC rays
Comes with Best Under the Sun case and microfiber cloth
I honestly thought I would never wear normal sunglasses again, although I am sure they would be more comfortable without the prescription glasses underneath, I now know my eyes are protected from the sun, and I no longer have that awful glare. I have tried those clips that go over your glasses, and I disliked them. They always felt funny, or made me think I looked funny. Although with the FLOWER glasses on if you were to get close you could see my normal glasses underneath, they are big enough to not effect my vision and have me trying to look through the blind spots.
The FLOWER sunglasses cost $79.00 and would make a great Christmas gift.
Thanks to polaroid-eyewearstore.com one lucky reader of The Neat Things in Life will also have a chance to check out the FLOWER sunglasses from the Best Under The Sun collection.
Mandatory: Head on over to polaroid-eyewearstore.com and tell me what other product you like of theirs.
Want Extras?
2 Extra each! Make sure to leave 2 comments per extra you do.
Like Polaroid Sunglasses on Facebook.
Follow Polaroid Sunglasses on Twitter.
Become a GFC of The Neat Things in Life
Like The Neat Things in Life on Facebook
Become a GFC of my other blog.
Subscribe via email.
Like Granite State Grave Markers on Facebook. (DO NOT POST ON THEIR WALL, UNLESS IT IS RELATED TO THEIR GRAVE MARKERS)
Follow me on twitter.
Daily Entries
Stumble, Like, Tweet, Google + the post.
Make sure to leave a comment for each you do.

Example tweet: Enter to #win a pair of FLOWER sunglasses from @PolaroidSun_US http://www.theneatthingsinlife.com/?p=7469

5 extra
Blog about the giveaway linking back to this post.
Giveaway will end on November 28th, 2011 at 11:59pm EST. Winner will be drawn via random.org, I will email the winner and they will have 48 hours to respond or a new winner will be drawn. Giveaway open to US residents 18 an older.

I received a pair of the Flower sunglasses for review purposes no other form or payment was received.