I am the type of person where I dislike taking pills. I can be balled over with major pain, and my husband fussing for me to take something. I know the chemicals in pain pills are not good for your body, so I tend to lay here hoping my own bodies natural pain killers will kick in. I have thought about asking them nicely to do their job, but then thought I would look pretty silly.
Recently, I was contacted to do a review on a product called Curamin. I was clueless to what the product even was, so I started my research. I discovered that Curamin was a blend of four powerful ingredients, that are clinically proven to help balance the bodies natural inflammatory response.
I also discovered that Curamin has received several awards including the 2011 Vity Awards.
The serving size of this supplement is 3 daily, you can learn more about the ingredients used in Curamin on their site.
My thoughts on Curamin, like I stated I am not much for taking pills, so I let my husband try the product. He had stated while taking this product he could tell a difference, and that it was working. He stated the price is a bit steep for the product and it would probably turn people off from purchasing it.
Over all the product worked like it was suppose to, and I would recommend it to others.
Purchase: You can purchase Curamin, at local health food stores, to see if there is one around you enter your zip code on the Curamin site.
One lucky reader of The Neat Things in Life, will have the chance to win a bottle to try out for themselves.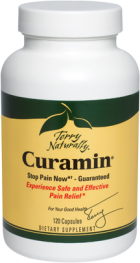 Mandatory: Head over to Curamin's website, and tell me something you learned or liked.
Want Extra?
2 Extra each! Make sure to leave 2 comments per extra you do.
Like Curamin on Facebook.
Follow Curamin on Twitter.
Become a GFC of The Neat Things in Life
Like The Neat Things in Life on Facebook
Become a GFC of my other blog.
Subscribe via email.
Like Granite State Grave Markers on Facebook. (DO NOT POST ON THEIR WALL, UNLESS IT IS RELATED TO THEIR GRAVE MARKERS)
Follow me on twitter.
Daily Entries
Stumble, Like, Tweet, Google + the post.
Make sure to leave a comment for each you do.

Example tweet: Enter to #win a bottle of Curamin. http://www.theneatthingsinlife.com/?p=7353

5 extra
Blog about the giveaway linking back to this post.
Giveaway will end on November 17th, 2011 at 11:59pm EST. Winner will be drawn via and the winner is plugin, I will email the winner and they will have 48 hours to respond or a new winner will be drawn. Giveaway is open to US residents 18 an older.

I received samples for review purposes only, however, this did not effect the review.