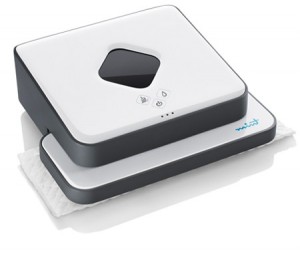 If you know me on a personal level you know I am not that great of a house keeper. I have been in homes where they look like they are model homes, and no one lives there. Being a parent having that model home is a bit hard, unless you are yelling at the kids non-stop to keep messes cleaned. I however, am the type of person where I feel a kid will be a kid and messes will get made. I do expect my daughter to clean up after herself, but I don't walk the house demanding everything be in its place at all given times.
How many of you would find life a lot easier, if you had some automatic products that did simple around the home tasks for you? I would love an automatic system that did the laundry for me. Not just washed, but also took care of! There are two things I dislike doing the most, and that is dishes and the wash.
With today's technology things have become a lot easier to maintain a clean house. We have dishwashers to wash the dishes, automatic vacuums to clean the floors. We also have an automatic system to sweep and mop the hard surfaced floors. I have to say for those who can afford such devices have things pretty simple.
Recently, we were able to test the Mint floor cleaner. The Mint is a system that both sweeps and mops your floor using the North Star gps system. The Mint is perfect for maintaining a clean floor and to better control pet hair, and dust. We all know when vacuuming the hair and dust gets stirred up. With the Mint the dust, and hair is trapped on the cleaning cloths, this being a better solution then sweeping and vacuuming those hard floors.
Specs:
Mint 4200
Mint uses dry and wet cleaning cloths to sweep and mop hard surface floors. It tracks where it cleans using the NorthStar Navigation System so it doesn't miss a spot.

What You Get:
• Mint Cleaner, 4200
• AC Adapter
• NorthStar Navigation Cube with 2 C batteries
• Multi-Purpose Cleaning Pad
• 2 dry sweeping cloths
• 1 wet mopping cloth
• Manufacturer's 1-year limited warranty

Product Specifications:
• Dimensions: 9.6"W x 8.5"D x 3.1"H
• Weight: 4lbs
• Battery: Rechargeable Nickel Metal Hydride
I never thought I would say this, but I love sweeping and mopping now!
Basically you charge the unit up place your GPS device out, and let the Mint do its job. Not only will this save you time, you will always have clean floors. I personally feel the charging time is a little to much, however, on the Mint Plus the charge is a lot less. I love the fact the Mint remembers the area it has cleaned and the fact it knows when there are stairs. I was a bit worried it would fall down the stairs and the system would be broken.
You can purchase the Original Mint at retail chains such as Wal-mart, Target, Meijer etc., or online for $199.99. If you are wanting the Mint Plus you can purchase that either online or Best Buy and Bed Bath and Beyond for $299.99 (Best Buy is a bit more.)
The Mint would make a perfect gift this holiday season!
Make sure to follow them on facebook and twitter.
 We received the Mint for review purposes only, no other form of payment was received. This is my honest opinion on said product and others will vary.