When my daughter was younger, one of her favorite things to do was take marker and color all over her toys. We are not talking about a little lipstick on her dolls we are talking about a full face makeover. Now that she is older the toy makers have come out with some pretty neat toys. Recently, I was introduced to Inkoos, what are inkoos you ask, well let me explain.
Inkoos are those toys, we with older children wished we had when they were younger, it may have saved us some money on paint and toys. They are fun characters that your child can draw fun designs on and make it their own. They come with washable markers, making clean up simple. This also allows your child to express themselves whenever. Inkoos come in many different colors and styles, and the larger ones come with three markers, and the inkspiration wheel. These toys will bring your child hours of fun, may not be all in the same day, my daughter filled hers up pretty fast and was asking for me to wash it already.
The large Inkoos retail for $19.99, and the smaller ones retail for $7.99. The inkoos would make great Christmas gifts this year, not only are the affordable, they can be used to entertain on those long trips.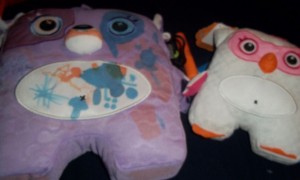 One thing I love about the inkoos is the fact the kids can color on them, and they wash off. One thing I don't like about them, is there's no easy way to wash them but the wash machine. I would love to see Inkoos come out with some sort of wipe, that you can just wipe them and they come clean again, this would make it so much better for parents. My daughter was playing around and just drawing whatever, and before we new it she was wanting it washed.
This momma, isn't running a load of wash just to clean this little guy after 10 minutes of drawing… Kids use your space wisely, hah.
Inkoos are very well made, and I can see them lasting awhile. They are recommended for ages 4 and up.
Connect with Inkoos:

Website: http://www.inkoos.com
Facebook: http://www.facebook.com/TheBridgeDirect
Twitter: http://twitter.com/#!/TheBridgeDirect
Purchase Inkoos:
You can purchase Inkoos at Walmart, Target, and Toysrus their suggested retail price is $7.99 for the small ones, and $19.99 for the large ones.
One lucky reader of The Neat Things in Life is going to win one each, a small one and a large one!
Mandatory: Head on over to Inkoos, and tell me something you liked, learned, or would want. This must be done, for all others to count, DO NOT copy the person above or below you.
Want Extras?
2 Extra each! Make sure to leave 2 comments per extra you do.
Like The Bridge Direct on Facebook.
Follow The Bridge Direct on Twitter
Follow The Neat Things in Life on Google Plus
Follow me on Google Plus.
Like The Neat Things in Life on Facebook
Subscribe via email.
Like Granite State Grave Markers on Facebook. (DO NOT POST ON THEIR WALL, UNLESS IT IS RELATED TO THEIR GRAVE MARKERS)
Follow me on twitter.
Daily Entries
Stumble, Like, Tweet, Google + the post.
Make sure to leave a comment for each you do.

Example tweet: Enter to two Inkoos just in time for Christmas http://www.theneatthingsinlife.com/?p=7700

5 extra
Blog about the giveaway linking back to this post.
Giveaway will end on December 12th, 2011 at 11:59pm EST. Winner will be drawn via random.org, I will email the winner and they will have 48 hours to respond or a new winner will be drawn. Giveaway open to US residents 18 an older.
We received product for review purposes only, no other form of payment was received.