It is no secret technology has taken over our lives. We have gone from very limited sources of entertainment to several forms of entertainment. I remember when I was a child, our fun was running outside with the neighborhood kids, now our children are glued to the video games, and computer screens.
I don't mind my daughter being on the computer as long as she is actually learning something, so when Math Blaster contacted me to do a review I jumped. My daughter loves playing games such as this online, and not only will she be having fun, she will also be learning, it is a win for her, and a win for me.
What is Math Blaster?
Math blaster, is a fun adventurous game filled with aliens, and math. Who doesn't love Aliens! Your child will be able to level to the different ranks in Blaster Academy. Math Blaster is completely safe with built in phrases, names. This ensures no foul language will be used, and no bullying will be allowed.
One thing I love about Math Blaster is all the different games you can play. You can set up a free account for your child to play, or you can purchase a membership, which will grant your child more benefits.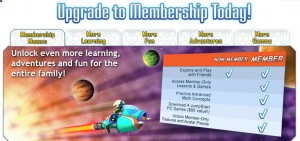 As a bonus for becoming a member you will also get full access to Jumpstart.com!
Membership fees are…

What Gillian thought – "I like that it is neat, and you can have mutts, I also likes that you can have battles with your pets. I think it would be better if you could have more than one mutt. I would suggest this to other kids my age"
This would make a great Christmas gift for those children that love playing games online.
One lucky reader of The Neat Things in Life will have a chance to win a three month membership, to check out for themselves.
Mandatory: Head on over to MathBlaster.com and tell me something you learned or liked.
Want Extras?
2 Extra each! Make sure to leave 2 comments per extra you do.
Like MathBlaster on Facebook.
Become a GFC of The Neat Things in Life
Like The Neat Things in Life on Facebook
Become a GFC of my other blog.
Subscribe via email.
Like Granite State Grave Markers on Facebook. (DO NOT POST ON THEIR WALL, UNLESS IT IS RELATED TO THEIR GRAVE MARKERS)
Follow me on twitter.
Daily Entries
Stumble, Like, Tweet, Google + the post.
Make sure to leave a comment for each you do.

Example tweet: Enter to #win 3 months free membership to MathBlaster.com http://www.theneatthingsinlife.com/?p=7339

5 extra
Blog about the giveaway linking back to this post.
Giveaway will end on November 17th, 2011 at 11:59pm EST. Winner will be drawn via and the winner is plugin, I will email the winner and they will have 48 hours to respond or a new winner will be drawn.

Disclosure: I was provided with a membership good for Math Blaster and Knowledge Adventure at no cost by Knowledge Adventure in order to test the products' abilities and give my own personal opinions on it. The opinions I have given are mine and may differ from others but were not influenced by the company or the free product provided.