How many of you remember growing up and making those thick bracelets? I remember I would take my floss string, get the colors I wanted, tie a knot at the end and safety pin it to my jeans. Once I was done I had a one of a kind bracelet. Things have come a long way since then, now they have cute little trays to help making those fancy friendship bracelets with.
How many of you remember "My Friendship Bracelet Maker" that hit she shelves last year? Well the creators of My Friendship Bracelet Maker is at it again, they have now come out with a My Ribbon Barrette Maker.
Recently, I was contacted and asked if I wanted to review either of these products. With me already having tried out the My Friendship Bracelet Maker, I went with the My Ribbon Barrette Maker. When it first arrived I was super excited, I sort of got this one for myself to review, I mean I will share with the dear daughter, sometimes!
I had to try this out, so I broke open the box, pulled out all the directions and got to work. The first one I did was for my niece, a light bluish, and pink.
My niece was so excited about her new barrette that auntie made for her, she had to wear it to school the following day. I found these barrettes to be super easy to make and tons of fun. I have since made 3 more, one for my daughter, one for my other niece, and one just testing out some different things.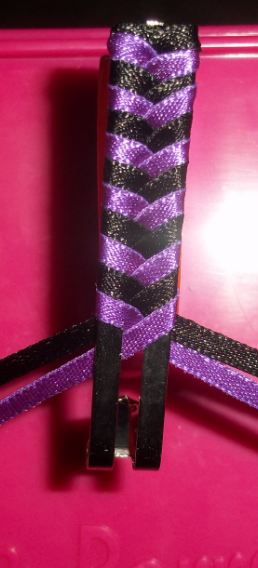 I am going to say the over all time in making one barrette from start to finish was about 15 minutes. There were a few things I didn't like with the end results so I am going to try and make it a bit different. I would like to make the knot when I am done be on the inside of the barrette, and I will be trying some different things with this little system… This is on the down low, but once I try it out and like the results I will be sure to show everyone.
I also wanted to see what it would look like with more than two colors. This system is built to do only two colors, however, with a little time you can do more than two. I tested this with three colors, and the end result was…

The three color one did take more time, but I think the end result was extremely nice. I have tried both the friendship bracelet maker, and the ribbon maker and I have to say I like them both, the barrette maker just a bit more. I think these would make great gifts this holiday season.
Purchase: My Ribbon Barrette Maker
retails for $24.99 and can be purchased on Amazon.
One lucky reader of The Neat Things in Life, will have their own chance to win either the friendship bracelet maker or the barrette maker.
Mandatory: Visit My Friendship Bracelet Maker's site, and let me know what you learned.
Want Extras?
2 Extra each! Make sure to leave 2 comments per extra you do.
Like My Friendship Bracelet Maker on Facebook.
Follow My Friendship Bracelet Maker on Twitter.
Tell me which on you would like to win.
Become a GFC of The Neat Things in Life
Like The Neat Things in Life on Facebook
Become a GFC of my other blog.
Subscribe via email.
Like Granite State Grave Markers on Facebook. (DO NOT POST ON THEIR WALL, UNLESS IT IS RELATED TO THEIR GRAVE MARKERS)
Follow me on twitter.
Daily Entries
Stumble, Like, Tweet, Google + the post.
Make sure to leave a comment for each you do.

Example tweet: Enter to #win a Bracelet or Barrette maker from @myfbm http://www.theneatthingsinlife.com/?p=7585

5 extra
Blog about the giveaway linking back to this post.
Giveaway will end on December 5th, 2011 at 11:59pm EST. Winner will be drawn via random.org, I will email the winner and they will have 48 hours to respond or a new winner will be drawn. Giveaway open to US residents 18 an older.
I received the ribbon barrette maker for review purposes only, no other form of payment was received.