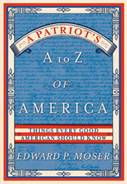 With being homeschoolers, I am always trying to find fun ways to teach my daughter. I have always believed learning should be fun! Recently, we were able to check out A PATRIOT'S A TO Z OF AMERICA: THINGS EVERY GOOD AMERICAN SHOULD KNOW.  Not only is this book supposed to be entertaining, it is also a comprehensive guide to sixty noteworthy topics, that are often overlooked.
America is a nation of firsts, from its pioneering innovation in technology and science to its politics, social affairs, and culture. But despite its intriguing and unique history, many Americans aren't as well-versed as they think they are when it comes to knowledge of the monumental events, people, and ideas that shaped this revolutionary country. Chock-full of surprising snippets of history, A Patriot's A to Z of America: Things Every Good American Should Know is the eye-opening remedy for every aspiring good American, featuring 60 heroic events and creative individuals who achieved great things—going to the moon, wiring the planet, defeating the Nazis, setting up the first large democratic republic, and largely banishing starvation overseas—achievements of which no other nation can boast. Organized from A to Z, these exceptional tales are America's to tell and for you to discover.
When I first received this book in the mail, I myself was super excited. I love learning knew things that I didn't know about from our past. I new my daughter would love this book as well. We sat down and started looking at different things.
One thing we liked the best, is it gets to the point and tells you the important facts instead of drawing it all out. This makes it more exciting to read, because you are not having to read through a bunch of other stuff to get to the point being made. Edward P. Moser did an amazing job putting this all together, in away that would make learning about our history fun.
A PATRIOT'S A TO Z OF AMERICA: THINGS EVERY GOOD AMERICAN SHOULD KNOW is a great book for those homeschoolers, or those that love everything about history.
We will be including this book in our learning curriculum so we can get the most out of it.
You can purchase a kindle version on Amazon for $7.99
We received a copy for review purposes only.