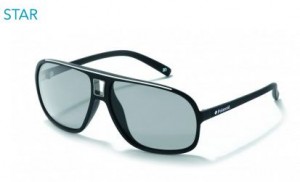 How many of you have seen a movie in 3d? The first movie my family seen in 3d was the 4th Pirates of the Caribbean, I have to say we were all extremely impressed. During the movie my husband kept grabbing out into the air, he said he was trying to catch some paper.
With our technology changing so fast, the way we view things is also changing. Soon we will all be viewing the world in 3d.
Recently we had the chance to check out the STAR 3d glasses from Polaroid-EyeWearStore.
Brief Description: The 3d STAR glasses are lightweight, comfortable, and will give you the best 3d experience. They are made with a premium 3D circular polarized lens, making them compatible with the circular polarizing technology. Which includes the RealD, Technicolor, and other systems. RealD has certified these glasses, due to their high quality and lens efficiency on the RealD products.
 My Opinion: Unfortunately we were unable to actually try these glasses in action. My sister has a 3d TV and while they were playing a game in 3d I tried to check them out, and had no luck. I believe this was due to the 3d in the game. I can however say that these glasses are good for those that wear regular glasses. I have been wearing glasses since about 7th grade, and I have a hard time when it does come to wearing other glasses besides my normal ones. It is a very awkward moment. However, these glasses just sat right over my prescription ones, and I had no issues wearing them. I know the movie theaters have the RealD technology so these glasses will come in handy when we go to the movies. Most places charge a nice little price to "borrow" their glasses while you watch the movie. This will be one less expense. I am also going to try to watch a 3d movie on my sisters TV and see if maybe it was just the game preventing me from seeing it in 3d.
The STAR 3D glasses retail for $45 dollars, and you can purchase them on the website.   They also have several other different styles, with different price ranges.
One lucky reader of The Neat Things in Life, will have a chance to win their very own 3d glasses! If you have a child that has to see all the new 3d movies at the theater this will save you some money!
Mandatory: Head on over to polaroid-eyewearstore.com and tell me what other product you like of theirs.
Want Extras?
2 Extra each! Make sure to leave 2 comments per extra you do.
Like Polaroid Sunglasses on Facebook.
Follow Polaroid Sunglasses on Twitter.
Become a GFC of The Neat Things in Life
Like The Neat Things in Life on Facebook
Become a GFC of my other blog.
Subscribe via email.
Like Granite State Grave Markers on Facebook. (DO NOT POST ON THEIR WALL, UNLESS IT IS RELATED TO THEIR GRAVE MARKERS)
Follow me on twitter.
Daily Entries
Stumble, Like, Tweet, Google + the post.
Make sure to leave a comment for each you do.

Example tweet: Enter to #win a pair of STAR 3D glasses from @PolaroidSun_US http://www.theneatthingsinlife.com/?p=7534

5 extra
Blog about the giveaway linking back to this post.
Giveaway will end on November 30th, 2011 at 11:59pm EST. Winner will be drawn via random.org, I will email the winner and they will have 48 hours to respond or a new winner will be drawn. Giveaway open to US residents 18 an older.

I received a pair of the  3D glasses  for review purposes no other form or payment was received.