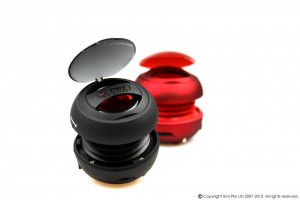 This holiday season you may looking for a little something extra for that gadget nut or music lover in the household. I recently tried out the latest thing in mobile audio; the X-Mini v1.1 Capsule Speaker. At first glance you would think the X-Mini may offer increased volume from your laptop or mobile device but nothing in way of quality.
Upon hooking up the X-Mini I was immediately surprised. Of course a speaker at 2.5 x 2 inches isn't going to rattle the windows, but what X-Mini does do is offer a thicker audio sound and improved bass response. It outperforms all on board laptop speakers I have heard.
If you need more bang than just 1 offers you can purchase multiple X-Mini's and link them together to construct an even bigger sound. It features it's own volume control adding amplitude as well as quality to your device. The X-Mini retails at 19.99 and is available at Walgreen's and other select retailers.
So if you are looking for that perfect little something for your tablet, iPod or even laptop user then I encourage you to give the X-Mini a shot. Increased audio volume, bass response and depth at a budgeted price makes the X-Mini Capsule Speaker a great addition to anyones gift list this year.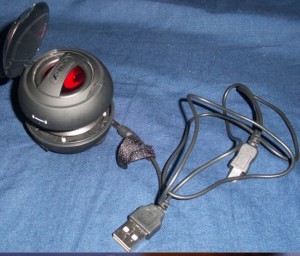 I know this will make a great stocking stuffer for my 10 year old this holiday season! The x-mini would make a great gift for pretty much anyone who has a love for music. Although it is small it has great output.
Connect With X-Mini via Facebook, Website, and Twitter.
We received a sample for review purposes only no other form of payment was received. This is our honest opinion and others may vary.