One of my favorite things about Christmas is the big ol tins of popcorn. After you have finished the popcorn, you have a decorative tin to place keepsakes in. Recently, I was asked if I was interested in checking out TopsysPopcorn.com and of course I said yes. We love popcorn around here, one of our favorite ways to eat it, is with lots of butter, and some junior mints.
TopsysPopcorn.com offers several different tins to choose from, and their popcorn comes in butter, caramel, cheddar cheese, and cinnamon. Yes, I said cinnamon, I never heard of cinnamon popcorn until recently, so I was excited to try it out.
We were sent the SnowFlake tin with caramel, cheddar cheese, and cinnamon popcorn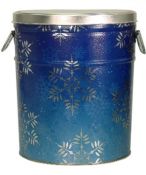 I have to say this popcorn  was super yummy! It was extremely fresh which to be honest, I was not expecting. We have purchased tins of popcorn from the local stores during the holiday season, only to have yucky popcorn. My husband mentioned when we received it he too was worried about the freshness. However, Topsy's Popcorn was very fresh, even a week after opening it and digging in. I would have to say out of all of them we loved the Caramel the best, my daughter and husband said eating the cinnamon popcorn was weird, so I got to eat that all by myself, YUMMY! The cheddar was different to me and my husband ate most of that one.
One of our favorite ways to eat popcorn is with lots of butter, and junior mints. Nothing like sweet and salty.
If my daughter could eat popcorn all the time she would.
Discount: TopsysPopcorn.com is offering all my readers from now until December 12th $3 off per popcorn canister they order! All you have to do is at check out enter Topsy21
Connect:
WIN IT!
One lucky reader of The Neat Things in Life, is going to win their very own canister of popcorn. The canister will include the three samples we got to sample. Trust me you want this popcorn!
Mandatory: Go to TopsysPopcorn.com and tell me something you learned about Topsy's Popcorn. DO NOT COPY FROM THE PERSON ABOVE OF BELOW YOU. I have noticed people not going to the sponsors site, instead they are cheating. I do not tolerate cheaters.
Want Extras?
2 Extra each! Make sure to leave 2 comments per extra you do.
Like Topsy's Popcorn on Facebook.
Follow The Neat Things in Life on Google Plus
Follow me on Google Plus.
Like The Neat Things in Life on Facebook
Subscribe via email.
Like Granite State Grave Markers on Facebook. (DO NOT POST ON THEIR WALL, UNLESS IT IS RELATED TO THEIR GRAVE MARKERS)
Follow me on twitter.
Daily Entries
Stumble, Like, Tweet, Google + the post.
Make sure to leave a comment for each you do.

Example tweet: Enter to some free popcorn from TopsysPopcorn.com http://www.theneatthingsinlife.com/?p=7613

5 extra
Blog about the giveaway linking back to this post.
Giveaway will end on December 12th, 2011 at 11:59pm EST. Winner will be drawn via random.org, I will email the winner and they will have 48 hours to respond or a new winner will be drawn. Giveaway open to US residents 18 an older.