We all know smoking is a bad habit. However, once you start it is hard to stop. I started smoking when I was 19 years old. I was going through a lot and thought smoking would help ease my mind. Although it made life less stressful, it also broke me. December 8th, 2007 I ended up in the ER, this resulted in me going on some antibiotics, and on December 14th, 2007 is when I had my last cigarette.
I was extremely lucky to be able to quit like that, it has now been almost 4 years, and I can say I am glad I am now a non-smoker. However, not everyone is as lucky as I was, my sister has been smoking since she was about 15 years old. Now that she is older and the price of smokes keeps going up she is trying to kick the habit as well. So when I seen the chance to review Vapor4Life, I researched it some and jumped on the offer. Not for me, but for her. I know how much better I feel now that I am not smoking, I want her to feel the same way.
Vapor4Life was founded by a long time chain smoker, Steve Milin. In 2008 Steve decided he was going to try the e-cigarette as an alternative to smoking. However, he found many flaws with the products on the market, to him they were hard to transport, messy and some even had many parts. I guess I could see how that would help you quit smoking, who wants to carry a ton of parts to enjoy a few hits off a cigarette. Steve set out to design the perfect e-cigarette, something that was not only affordable, but convenient. To read more about Steve's story you can visit the about us section on Vapor4Life's website.
When the Vapor4Life arrived in the mail box, I rushed it over to my sister right away I had to see how she liked it, and what she thought of it…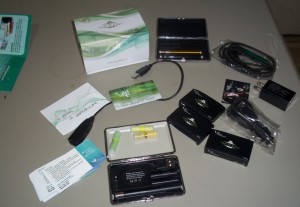 She received the Cappuccino, French Vanilla, and Turtle flavors, when she first took a hit off it she was trying to taste the flavors. She said the flavor is very faint, which would be smart if you are wanting to kick the habit you don't want the yummy flavors keeping you from stopping. I was curious on how it worked, so I also took a hit. Let me say that was not a smart thing to do, I got really light headed since it has been a long time since I smoked.
My sister said her favorite flavor is the French Vanilla, and she has noticed since having Vapor4Life that she smokes a lot less. She let a friend try this, and they were very impressed.
If you are looking for an alternative to smoking, we highly recommend Vapor4Life, even if you are not wanting to quit all together, vapor4life will help you reduce your smoking costs. Plus since it doesn't let off "smoke" you also can use this anywhere. Just carry your card showing it is only releasing vapors and you will be set.
One lucky reader of The Neat Things in Life will win their own Vapor4Life kit, whether you are wanting it for yourself, or a friend. The Vapor4Life would make a great gift this holiday season.(Kit will vary with product)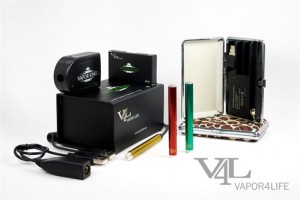 Mandatory: Head over to Vapor4Life and tell me which flavor you would like to try. Then come back here and leave a comment.
Want Extras?
2 Extra each! Make sure to leave 2 comments per extra you do.
Like Vapor4Life on Facebook.
Follow Vapor4Life on Twitter.
Become a GFC of The Neat Things in Life
Like The Neat Things in Life on Facebook
Become a GFC of my other blog.
Subscribe via email.
Like Granite State Grave Markers on Facebook. (DO NOT POST ON THEIR WALL, UNLESS IT IS RELATED TO THEIR GRAVE MARKERS)
Follow me on twitter.
Daily Entries
Stumble, Like, Tweet, Google + the post.
Make sure to leave a comment for each you do.

Example tweet: Enter to #win a @vapor4life starter kit http://www.theneatthingsinlife.com/?p=7559

5 extra
Blog about the giveaway linking back to this post.
Giveaway will end on December 3rd, 2011 at 11:59pm EST. Winner will be drawn via random.org, I will email the winner and they will have 48 hours to respond or a new winner will be drawn. Giveaway open to US residents 18 an older.
We received product for review purposes only. No other form of payment was received