About six months ago we were able to check out the Magical Zoo Moon dough. Our only complaint about it, and I will quote my at the time 9 year old daughter "It is too fluffy". However, we were not the only ones that thought that, Spin Master listened to everyone, and came out with a new formula. This new formula is supposed to be the same, only difference, not as fluffy.
We had to check it out! So when we were invited to check out the new doughlift, of course we said sign us up.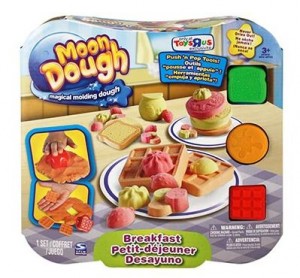 I was extremely curios to see if the change suited this product. So when we received it, we had to play with it, to see if changed were indeed made. I noticed right away there was a big difference in the way the product played.
Before when you tried to make things out of the molds, the moon dough just fell apart. I mean it wasn't all the time, but the consistency just didn't fit well with what the product was intended for.
The new formula is a lot better, I also love the new molds!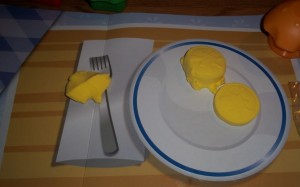 As you can see in the above picture, the moon dough is sticking together better, making it a lot easier to form into playable foods. When I asked Gillian what she thought of the new and approved moon dough, she said it is a lot better, then the last set we got. She said it is easier to play with and not to fluffy.
I love how kids use such cute words to describe products.
More about the Moon Dough Breakfast set:
Moon Dough Breakfast Set. Create your own delicious breakfast with the Moon Dough Breakfast Set! Create Pancakes, Waffles and Toast in one easy step with the new Push & Pop Tools. Just Push, Pop, and Play! Stack up your creations, pile on the toppings, and serve up your own breakfast meal! And because Moon Dough never dries out, you can make tons of fun creations – again and again! Soft, light, wheat-free and non-drying, Moon Dough is out of this world! Includes: 3 Push & Pop Tools Topping Mold 1.5 oz. Red Moon Dough 1.5 oz. Yellow Moon Dough Play-mat Instruction Guide.
You can purchase the Moon Dough Breakfast Set
on Amazon for $16.85
Make sure to connect with moon dough on facebook, and twitter.
We received the above product for review purposes only, no other form of payment we received and this is our honest opinion.