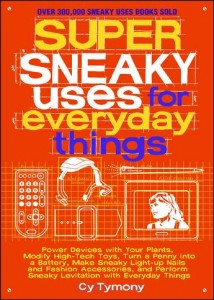 How many times have you been cleaning, and ran across something that you knew later down the road you might need, such as a paper clip, or a magnet? I have a drawer full of things that I might need, my husband fusses because I tend to keep some really crazy things. He will thank me when he needs a paper clip one day.
Super Sneaky uses for everyday things, is Cy's 8th book in the series. This book includes activities that have never been seen before, and even has some sneaky fashion like the light up nails, and the sneaky bracelets and belts.
How many of you have kids that like to try new and exciting things with random things laying around the house? My daughter does, she is going to be one of those science geeks. It amazes her how things work. Her and daddy even made a door alarm once, and she is all about searching for finger prints.
Super Sneaky uses for everyday things, has over 30 new inventions! These new and exciting projects not only show you step by step directions for you to try at home, they also show you images, so you can see if you are doing it correctly, and give you a list of things you will need.
One thing I liked about this book, is the illustrations. I am one that has to see images as I am doing something, or it will not turn out right, and I would have never known you can take a part a 9 volt battery  to reveal 6 AAAA batteries, yes I said AAAA, and when in a bind you can make them work as AAA batteries. How awesome is that!
Want to try some cool tricks yourself? Check out the Sneaky Uses site for a few free projects, also make sure to check out their youtube page where they show you how to some neat things.
You can purchase Super Sneaky Uses for Everyday Things
on Amazon for $10.16 and is eligible for free sipping on orders over $25.
We received a copy for review purposes only no other form of payment was received.