Who doesn't love flowers! Not only are they beautiful they also smell amazing. I recently had the opportunity to work with Teleflora, when I was told all their flowers are done fresh in the flower shop, then delivered to your door, I had to check it out. In the past I have received flowers, and they have come via UPS and in a box. I had to remove the flowers arrange them in the vase and so forth. So I was extremely excited just knowing I wasn't going to have to arrange them myself. It seems they never look as pretty!
The flowers I picked were the Celebrations by Radko Glitter & Shine Ornament.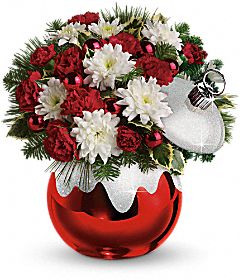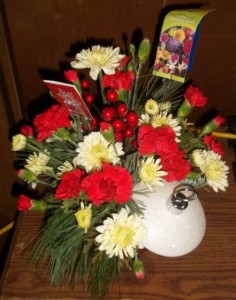 I have to admit, these are stunning! Being upfront and honest, I loved the fact these came delivered to my front door by the florist. I also like the fact that I have had them for a week now, and they still look amazing. I was a bit disappointed that mine didn't come with the small red ornaments. However, I do understand that my local florist may have been out.
If you are not familiar with Teleflora let me give you a quick run down about the company. They have been connecting their customers with some of the best florist in the nation for over 75 years. Their headquarters is located in Los Angeles, California and they currently have 18,000 florists they work with through-out the USA and Canada, as well as 20,000 affiliates outside of these locations.
Teleflora also stands behind their service, and if you are not satisfied contact them and they will make it right! You maybe asking yourself, what makes Teleflora different or better from all those other flower companies.
Let me show you…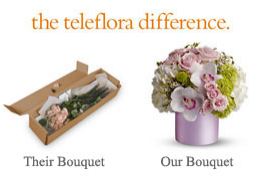 Since Teleflora is not a actual florist, however, a service they can make sure the product you order is hand delivered, and no not by your favorite UPS man.
So why go to Teleflora when it comes time to order those flowers? Because you are guaranteed to get the best of the best, and they will becoming from a local flower shop, not some place across the country, where they place them in a box, ship to you get thrown from this truck to that truck, then tossed at your front door if you are not home!
If you're ever in need of flowers for a special day, I highly recommend Teleflora they have flowers for all occasions.
Now who wants to win this same flower arrangement I received for review. I know you do, because the vase these flowers come in, turns into a candy dish, and it is so pretty. My daughter is trying to make claims to mine.
Thanks to Teleflora, one lucky reader of The Neat Things in Life will win their very own Celebrations by Radko Glitter & Shine Ornament.
Mandatory: Head on over to Teleflora and tell me what other flower arrangement you would love to have. DO NOT copy what the person above or below you put.
Want Extras?
2 Extra each! Make sure to leave 2 comments per extra you do.
Like Teleflora on Facebook.
Follow Teleflora on Twitter.
Follow The Neat Things in Life on Google Plus
Follow me on Google Plus.
Like The Neat Things in Life on Facebook
Subscribe via email.
Like Granite State Grave Markers on Facebook. (DO NOT POST ON THEIR WALL, UNLESS IT IS RELATED TO THEIR GRAVE MARKERS)
Follow me on twitter.
Daily Entries
Stumble, Like, Tweet, Google + the post.
Make sure to leave a comment for each you do.

Example tweet: Enter to win a beautiful Christmas Flower arrangement from @teleflora http://www.theneatthingsinlife.com/?p=7778

5 extra
Blog about the giveaway linking back to this post.
Giveaway will end on December 17th, 2011 at 11:59pm EST. Winner will be drawn via random.org, I will email the winner and they will have 48 hours to respond or a new winner will be drawn. Giveaway open to US residents 18 an older.
We received product for this review, all opinions are our own and others will vary.