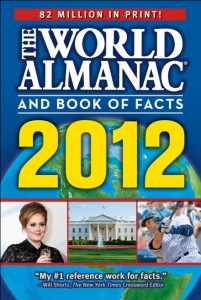 The World Almanac has sold over 82 million copies, and is currently ranked as the best selling American reference book! It has come a long ways since it was first published in 1868. The World Almanac has over 1,000 pages of facts and information. It also contains thousands of facts and statistics. If you are a home schooling family this is one of those must have books for your reference collections.
We recently had the opportunity to check out The World Almanac 2012 first hand, and I was pretty amazed. As my daughter and I was checking out the Almanac we came across a lot of great facts. I love all the historical information in this book, such as the Presidents, our Economic status, and the showings of the crime rates.
This will be one of the books my daughter goes to when it is time to write those reports, I know the information she will receive from this book, is actual facts. I love that the information used to publish this book, has been checked more than once to make sure we are getting all the proper facts.
Below you will find some of the notable features in The World Almanac 2012.
Notable Features for 2012
The World at a Glance: The most fascinating facts of the past year in science, economics, sports, arts and media, and more
2011: Year in Pictures: 16-page color photo section of the top stories of 2011
2012 Election Preview
2010 Census Results
Time Capsule
Year in Sports
Greatest Sports Upsets
The Year in Review
Offbeat News Stories
U.S. Colleges and Universities
Economy and Employment
16 pages of world maps and flags and easy-to-use side tabs
and much more.
The World Almanac 2012 would also be great for those family debates.
If you have children this is a must have book for all those book reports your child will have to do through-out their high school years. If you are a person that loves reading facts, this would also be a great book for you.
I would have to say my favorite part of the Almanac is the facts about the starts, I love seeing how the different States got their names.
Michigan: From Chippewa words, mici gama, meaning "great water," after the lake of the same name.
You can purchase The World Almanac® and Book of Facts
on Amazon for $8.17 and is eligible for free shipping!
We received a copy for review purposes no other form of payment was received. This is our honest opinion and others may vary.